The old adage "health is wealth" speaks to a pervasive human truth, particularly in New Orleans, where a hurricane season within a pandemic exposed a stark reality: the racial gap between health and wealth is widening. This isn't news to a city where the link between the two is well documented, and where a complex history has blurred racial lines beyond simple definition.
This connection is reinforced in a recent New Orleans Health Department community health assessment that defines five main social determinants of health: crime and violence, insufficient infrastructure, unhealthy environments, lack of jobs and fair wages, and low-quality or unaffordable housing. Because these factors are interconnected and complex, addressing them demands the exploration of new and innovative solutions that hinge on cooperation between the City's citizens and the institutions that shape city policy. To that end, the New Orleans Health Department and the Office of Economic Development, in cooperation with FUSE Corps Fellows Maria Moore and Shaun Randolph, are finding new ways to support economic recovery and neighborhood prosperity.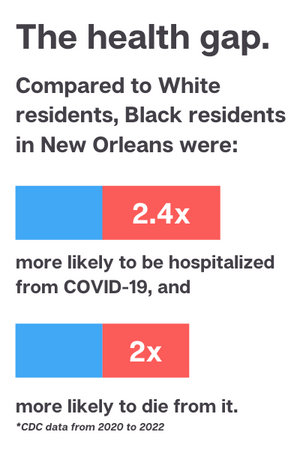 "The health gap is the wealth gap," states Dr. Jennifer Avegno, the Executive Director of the New Orleans Health Department.
This divide was laid bare by COVID-19, as some Americans commuted daily to essential jobs while others stayed home to work remotely. With an already troubling wealth gap yawning wider, the adjacent health gap became impossible to ignore. CDC data from 2020 to 2022 shows that Black individuals were 2.4 times more likely than Whites to be hospitalized after contracting COVID-19 and almost twice as likely to die from it. Additional CDC data correlates these negative outcomes with heavier reliance on public transportation, living in multi-unit apartments or multi-generational homes, and subpar food options. This connection between health and wealth and the recognition that disparities are compounded by systematic issues and climate events is leading different New Orleans entities into increased collaboration with one another.
"I hope COVID has taught every community in the United States that there are significant health disparities… and the starkest example is income inequality, but that itself is founded on generations of structural racism. It's not just a New Orleans problem, but it tends to be more exacerbated here," Dr. Jennifer Avegno, the Executive Director of the New Orleans Health Department.
Casual observers might point to Hurricane Katrina or the COVID crisis as drivers of inequality in the city, but longtime residents know that these events merely exacerbated pre-existing issues. Already in short supply before Katrina, the affordable housing shortage afterward was so extreme that it prevented tens of thousands of citizens from returning home. In spite of a low overall homeownership rate in New Orleans, many of the Black neighborhoods devastated by Katrina flooding boasted high ownership rates. A large percentage of those homeowners—from one-quarter to two-thirds—lacked flood and hazard insurance, making rebuilding impossible. At the root of homeownership inequity in New Orleans lies a continuous cycle of investor-driven disaster recovery, whereby investors take advantage of post-disaster price drops, accumulating the assets under-resourced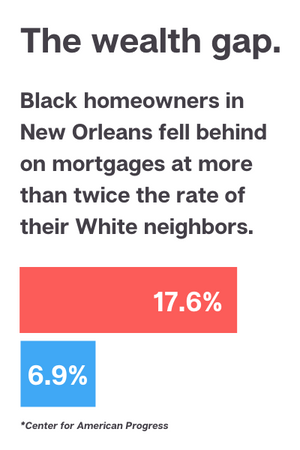 locals are forced to sell. This transfer of wealth moves in only one direction, with Black communities becoming gentrified even as they lose a tremendous amount of intergenerational wealth.
COVID-19 added yet another chapter to the New Orleans wealth gap, illustrated in a Center for American Progress study: Between August 2020 and March 2021, Black homeowners fell behind on mortgages at more than twice the rate of their White neighbors (17.6 versus 6.9 percent, respectively). In the same time period, White homeownership increased, even as Black homeownership, already not half that of Whites, remained stagnant.
Sometimes the best way to see the big picture and connect the dots is with fresh eyes.
When FUSE Executive Fellows Maria Moore and Shaun Randolph started their work they took a several-week "listening tour" before putting any gameplays, strategies, or pilots into motion. "For the Fellows working with us and the Office of Economic Development, the challenge was helping us tell the story of how New Orleans can be healthy and wealthy in a way we haven't put together before," NOHD's Avegno says. "It is bringing in this outside perspective."
"Public health is a very traditional discipline, and New Orleans has a great amount of that effective programming in place," says Fellow Maria Moore. "What the NOHD executive leadership and staff are asking is 'How can we do things differently based on the society we live in now?'" Exploring multidisciplinary approaches, the FUSE Fellows launched pilot programs that offered unusual or simplistic-looking solutions to long-standing issues. However, beneath the surface, these pilots were designed with the intent to profoundly transform residents' ability to access at least two core tools for recovery: capital and healthcare.
"We didn't get here by accident. We need to study the systems, how they've been designed to extract value, and how we can change the DNA of the existing structures," says Fellow Shaun Randolph. A proposed pilot dubbed the "Universal Basic Investment Credit program," allows local residents and the general public to provide seed money to an up-and-coming business via crowdfunding platforms. Through the process of helping support new businesses, they also become part owners of the asset, and thus long-term stakeholders. Such ownership opportunities are a staple feature of Wall Street, but economically under-resourced people have traditionally faced high barriers to entry—particularly for those transactions that allow people to acquire assets without having to put up their own hard-earned money.
"You can't just take a program that worked well in Houston or Atlanta, and think it is going to be an unqualified success in New Orleans," says Moore. "This 'plug and play' mentality does not work in New Orleans, because there is a way that the people and the unique culture of New Orleans flow that can't be overlooked, no matter how good you think your intentions may be." Moore and Randolph call this "localized fidelity," referring to locals' deep loyalty to "The New Orleans Way". This might present in how the City respects and preserves historical sites or in the residents' preference for being "heard out" before entertaining an outsider's ideas on how to fix a local issue. Ultimately, the lesson is that FUSE Fellows in New Orleans must build change with the culture, not around it. The FUSE Executive Fellows planned more than a half dozen pilots during their one-year tenure. Because pilots are minimally viable tests, they can be launched quickly, tested in the community, and then scaled appropriately.
"How do you get private dollars to do public good?" asks Moore. "That was basically our theme for the year."
By rapidly identifying resources, the Fellows were able to get around $70,000 directly into community projects without asking the City or residents to shoulder any of the financial burdens. Through a system of public-private partnerships, they channeled funds into community efforts, solar panels, energy pilots, a Healthcare for the Homeless program, and more.
In the Mayor's Office, these pilots are impacting how often health stakeholders refer to generational wealth and poverty, and how wealth stakeholders now discuss health access and disparities. In sparking these conversations, FUSE Executive Fellows have helped leaders work together on critical issues. "One of the bright spots is a lot of congeniality and a shared mission," Avegno says, adding that in her previous government role, communicating with another department could take weeks. "We may not agree on the ultimate solution, but we don't have to get others up to speed on the problem."
One thing all parties agree on is that the time to prioritize health and wealth is now.
Both stakeholders and Fellows recognize the three layers of long-term systemic change: integration with the community, rather than separation; the tie between health and wealth; and most importantly, that the goal isn't necessarily radical change; at least on the surface.
For example, when William Bradshaw founded the redevelopment company Green Coast Enterprises, his intention was to use the for-profit development process to create social equity through affordable housing. Bradshaw says he and FUSE Corps Fellow Randolph are in lockstep around how they want New Orleans to offer more inclusive wealth and empowerment opportunities. "We recognize that it's not just the pandemic, but issues of race and access – a reckoning – where people who have cared for a long time about making a bigger tent are shifting away from those who have passively or actively excluded others," he says.
Dr. Avegno agrees. "Working with the fellows is helping the communities recognize the window of opportunity we have at the moment," she says. "We had community ties pre-Katrina, but not as much with the business community. With the health is wealth perspective, we can show how well-being and economic prosperity are intertwined, and how an upstream investment in one is also a win for the other. We're building from a good place and just need to continue doing the work."

---
---