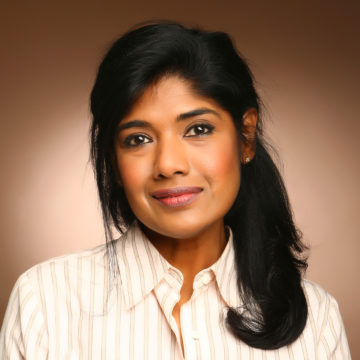 As a FUSE Executive Fellow, Kishani De Silva (2018-21) worked with the Los Angeles County Development Authority to help establish a framework for  its Strategic Partnership Division, its Strategic Partnership Division, developing strategic partnerships and key collaborations to advance affordable housing and programs for vulnerable populations. She launched a Science, Technology, Engineering, Arts, and Mathematics (STEAM) program for students, a demonstration project to fast-track the housing supply, and workforce development programs. During the COVID-19 pandemic, Kishani pivoted to address COVID-related needs, such as adding academic assistance to the STEAM program for students struggling with remote learning, implementing a health and motion program for isolated older adults, and delivering an agency-wide digital health screening platform.
After her Fellowship, Kishani worked with the LA County Office of the Chief Executive Officer as a consultant for the American Rescue Plan Project. She runs an art architecture and design management firm, 2A + D Management Services LLC. Most recently, she worked with a team of students at Woodbury University to design and build the first permitted 3D-printed micro unit in Los Angeles as part of the Department of Energy Solar Decathlon competition.
What was the impact of the FUSE fellowship on you, professionally and personally?
The FUSE Fellowship had an enormous impact on me. Coming from a 25+ year career in the private sector, being a part of FUSE was intentional. It provided me with a vehicle to springboard into public service, where I learned first-hand how government operates, why it might seem difficult to accomplish things in a government context, and what it takes to shift policy. It became clear to me the enormous responsibility and accountability government shoulders and how we from the outside can support change where needed.
At a professional level, housing affordability and homelessness has been close to my heart for the past seven or eight years and FUSE provided me with the opportunity to work with the LA County Housing Authority. There, I was able to better understand the magnitude of the challenge and work on some of the root causes driving affordability and homelessness. Among other things, I worked on issuing a RFP (request for proposal) to select teams that could demonstrate smarter means, methods, and technologies, that could bring supply faster to market. As part of my tenure with the Housing Authority, we were able to select three teams to work on tiny homes and prefabricated modular methodologies, as well as 3D printing.
My Fellowship lasted 2.5 years with the last year or so being during the pandemic. While the demonstration project was paused, I then pivoted to helping the agency stand up COVID-related projects.
What are the big challenges on which you are working now?
Post Fellowship, I was able to revive the project — this time to explore the 3D printing aspect of building technology — for the Department of Energy Solar Decathlon competition. I worked with a team of incredible students at Woodbury University to design and build — or should I say print — the first permitted 3D-printed micro unit in Los Angeles. The dwelling is now permitted and printed, and it offers a smarter and faster solution to bringing supply online faster. The unit is also a high-performing and sustainably-designed Zero Net Energy dwelling.
What are you hoping to achieve in the next 6-12 months, and how has your FUSE experience prepared you to approach them?
The project mentioned above, addresses the housing crisis in Los Angeles and the nation, and I believe, offers one possible solution to leverage 3D printing technology at scale. The time parameter was addressed in the project and it provides hope that we can certainly build faster.
I hope to be working on furthering the research that started from this project on building technologies, greener concrete, and high-performing and resilient buildings that address climate change.
This means addressing policy in a local context and pushing boundaries. The FUSE experience prepared me in engaging local government and working together in partnership to address a greater cause — whether it's housing affordability, homelessness or climate change.
Related work and news:
Woodbury University School of Architecture: Solar Decathlon Build Challenge
Video: Printing Timelapse of Woodbury University's 3D Printed House