What does it take to drive innovative solutions in local government? It all comes down to people skills. That, and a vision for the long game.
That was the conclusion of the panel entitled "The Challenges and Opportunities of Driving Innovative Change" at the Meeting of the Minds conference in Cleveland last week, moderated by FUSE CEO James Weinberg, and included FUSE fellows Veronica Njodinizeh, Michael Lim, and Gayathri Thaikkendiyil. The focus of the conference, which convened 400 leaders from private and public sectors, nonprofits and philanthropy, was to identify best practices to accelerate smarter, more inclusive, and connected cities.
Understanding people's motivations is critical, said Njodinizeh, a former health advisory consultant and business development manager for Pricewaterhouse Coopers, who helped implement a comprehensive violence prevention plan focused on boys and men of color known as My Brother's Keeper (MBK) for the City of Long Beach. Sharing her own powerful story involving a family tragedy and, in turn, understanding why the work also mattered to her colleagues allowed Njodinizeh to forge deep connections that helped accelerate her work.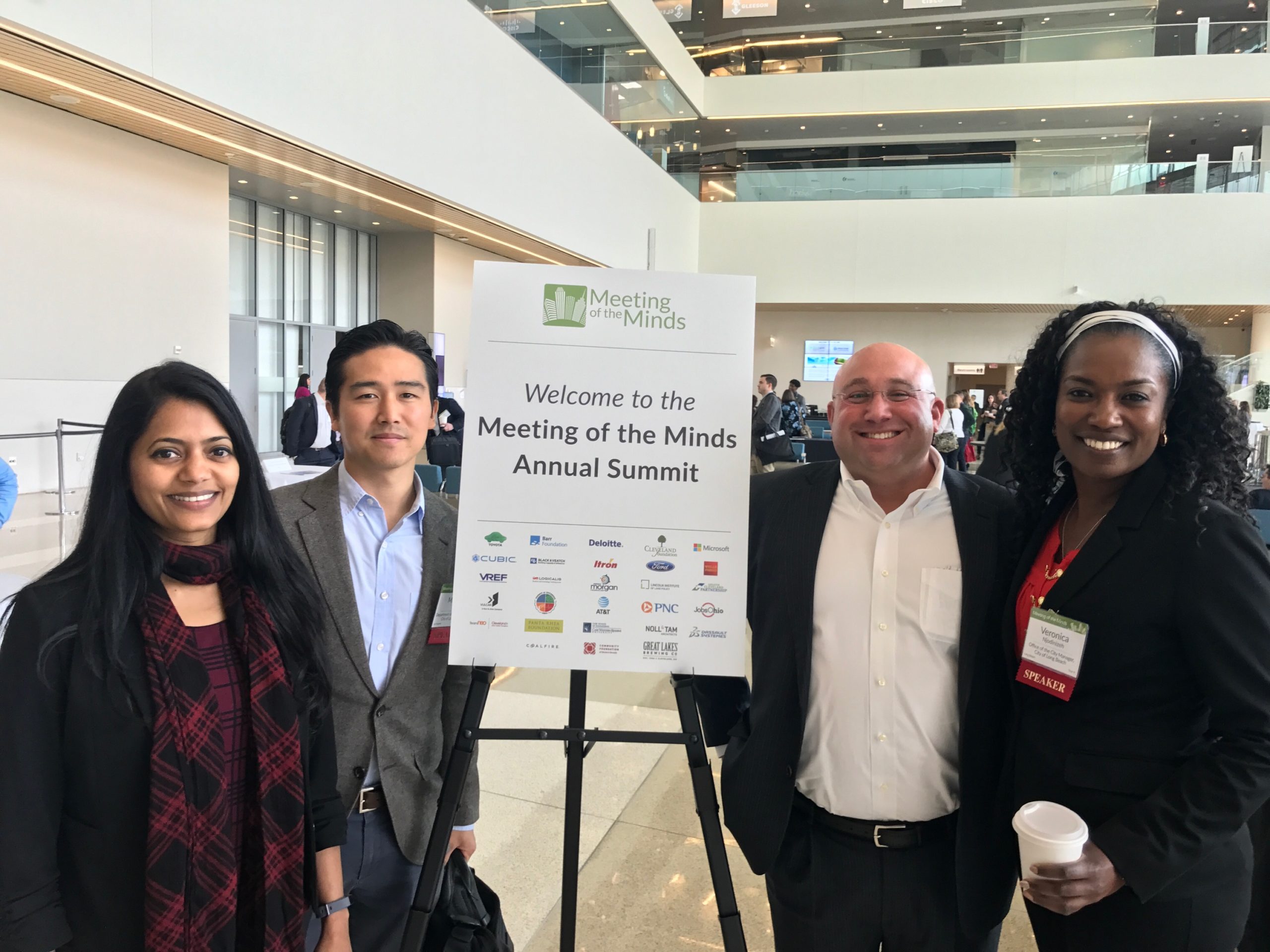 Likewise, Thaikkendiyil said it was important to build relationships and get buy-in from various stakeholders, particularly city residents who would be the end users of such services, as a way to inform decision making. Thaikkendiyil, a former technology leader who worked with the San Francisco Ethics Commission to redesign and modernize its website and e-filing project in order to increase public engagement and departmental transparency and accountability, recommended mapping out various stakeholders, going on a listening tour to get buy-in and beta testing before launching products.
Building partnerships with coalitions in the region was key for Lim, a former investment banker and technology start-up founder who developed an autonomous vehicle strategy for the City of Los Angeles. This helped ensure the regional cooperation of the policy work, and launched innovation streamlining efforts with outside agencies to create new approaches.
Lim also noted that identifying the right kind of talent is critical to drive innovation. In fact, many of these talented folks are often already a part of the organization but just haven't been tapped yet as a resource.
The Long Game
Weinberg noted that one of his key messages to fellows as they start their year-long fellowships is to focus on the longevity of the project. "We're in the transformative change business," he said. "A fellow can be catalytic in moving things forward, but we want to see lasting change in a community."
Building on that point, Lim noted that too often, people get bogged down in the day-to-day work and don't step away to think about the big picture and lasting impact. Government agencies can benefit from creating space and structure for innovation work within a department.
FUSE was invited by conference organizers to host the session, which focused on how a fellowship model could help accelerate effective solutions for local government agencies. Check back at Meeting of the Minds to watch videos of each of the sessions.