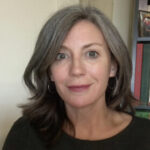 Erin K Flood
2022-2023 | Los Angeles County - Los Angeles County Bar Association
Born of deep interest and regard for others, ERIN K FLOOD has centered her life and career around change work. She has held positions from entry-level to Executive Director with organizations impacting the formerly incarcerated, previously gang involved, foster youth, folks impacted by violence, as well as the food and housing insecure. In 2013, she began Insights for Social Good, Management Consulting for Nonprofits and serves as its Principal Consultant.
Erin also holds an MFA and was a professor of art and a product designer in her earlier career.
Having lived and worked throughout the US and abroad, Erin calls Los Angeles home. In her spare time, she makes art, volunteers as an Emergency Crisis Counselor, practices food preservation, runs, and enjoys spending time with her partner Tim, their cat Aonghas and dog Lewis.
Project
LA County is taking critical steps to create an effective and scalable model for resentencing indigent defense clients, assisting in remedying the over-incarceration that has gone on in the State for decades. The Los Angeles County Bar Association (IDP) will partner with a FUSE Executive Fellow Erin K Flood to implement the Public Defense Pilot Program, a specialized resentencing unit within the agency, designing a collaborative approach to resentencing case management.