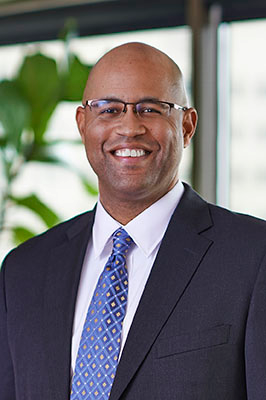 Tyronne Jolly
2022-2023 | City of Austin - Public Health Department, Homeless Strategy Division
TYRONNE JOLLY has nearly 20 years of experience in strategy, marketing, corporate development, and performance management. Most recently, he was the President and COO of a non-profit addiction recovery facility. Previous roles include founding a mental health system navigation startup, healthcare management consulting, product development and management, among others. Tyronne started his professional career as an Examiner with the Federal Deposit Insurance Corporation.
Tyronne holds an MBA from the Darden Graduate School of Management at the University of Virginia. He also graduated summa cum laude with a Bachelors' degree in Accounting from Bethune-Cookman University.
Project
In spring 2021, city leaders facilitated the first Summit to Address Unsheltered Homelessness in Austin determined that a financial investment of $515M, from both the private and public sectors, would be required to rehouse 3000 people experiencing homelessness and add 200 staff to culturally-reflective providers. To support this work, Austin will partner with FUSE Corps to develop a sustainable funding and investment plan for addressing unsheltered homelessness in the city.