Long before COVID-19, Fresno had been pushing toward economic revitalization. Its downtown had recently become a vibrant spot for locals, with restored sculptures and murals, food trucks drawing diverse crowds, and public gatherings for artistic, cultural, and music events. 
These gains come from a place of struggle. Fresno is the fifth most populous city in California, following Los Angeles, San Diego, San Francisco, and San Jose. But while San Francisco and San Jose boast six-digit median incomes, Fresno's is $47,189, less than half of these cities. With a poverty rate of 26.9 percent, Fresno comes close to topping the list of cities in the country with the most concentrated poverty. Across neighborhoods, life expectancy in Fresno can vary by 20 years. These are the statistics that push Fresno to innovate against the odds.
No one could anticipate COVID-19, which sent cities across the country reeling from its economic impact. To help save local businesses, economic development teams are going into overdrive, identifying which businesses must close and when they can reopen, helping owners secure federal loans through the Payment Protection Program, obtaining personal protective equipment on behalf of businesses, tapping into federal funding available to city governments, spearheading recovery task forces and relief programs, and lifting up traumatized small business communities.
There's a silver lining. For a scrappy but burdened city like Fresno, access to federal funding from the U.S. Economic Development Administration, Environmental Protection Agency, U.S. Department of Housing and Urban Development, and the CARES Act can be the lifeline it has needed to give the city a leg up. Beyond the funding, Fresno now also enjoys a seat at the table, integrating with teams from the state and federal government in new ways.
However, with income and poverty rates pointing to a larger economic struggle in the face of the pandemic, the stakes in smart innovation strategies are high. Across sectors and industries, residents of Fresno share a commitment to seeing their city thrive. The initiatives in place are collaborative, rooted in cross-sector partnerships, and cognizant of its history. Fresno innovates because its future depends on it.  
These are four ways Fresno is leveraging innovative tactics to push for progress.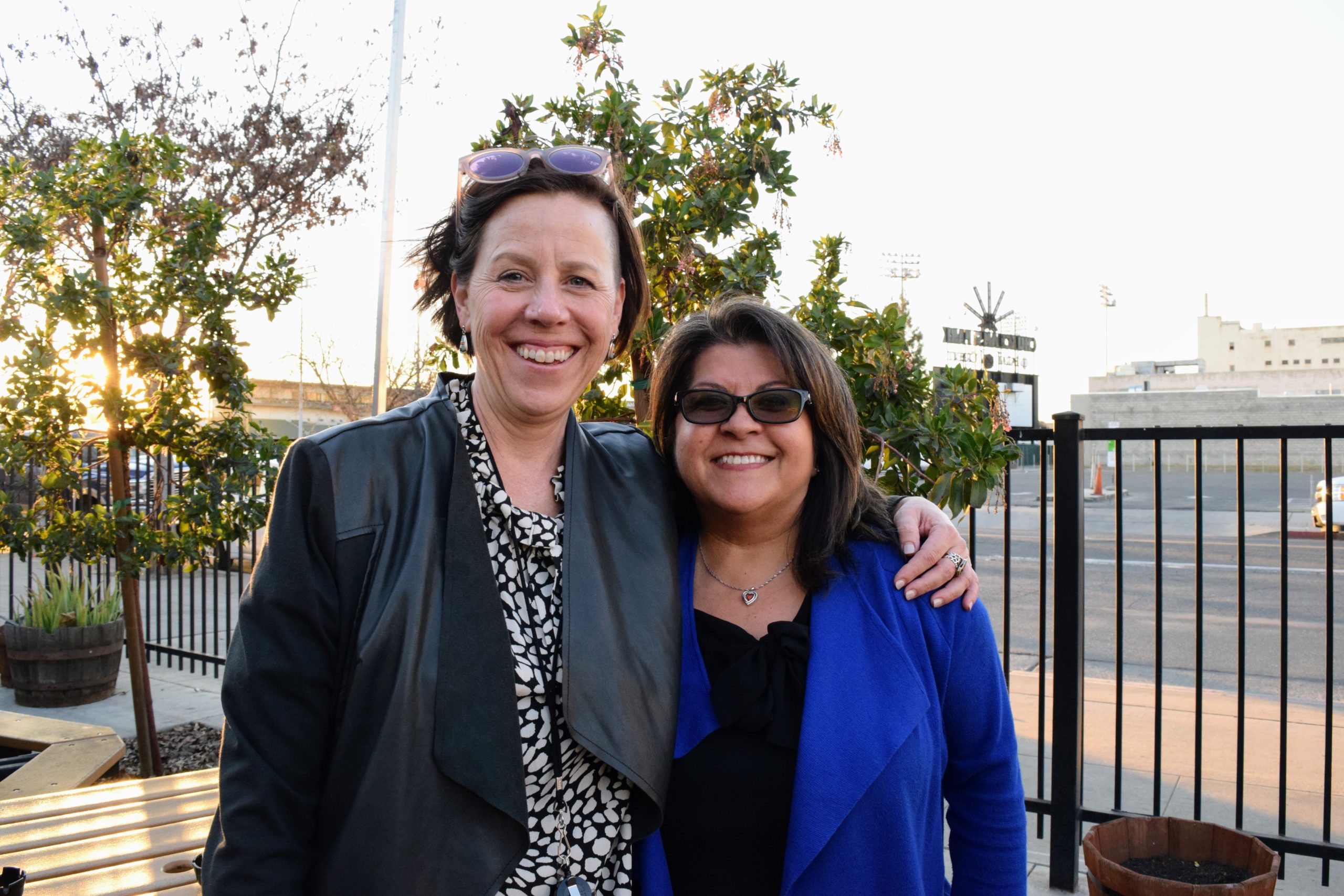 Clair Whitmer (left), FUSE fellow, with Lupe Perez, director of economic development
1. Infusing a Fresh Perspective into the Mayor's Office
To lead the charge for deploying innovative tactics inspired by the private sector, FUSE fellow Clair Whitmer has been tasked with addressing economic inequality in the region through opportunity zones for the Mayor's Office of Economic Development. Whitmer has been working closely with her project supervisor and Fresnan native Lupe Perez to ensure that a fundamental understanding of the community's needs is woven into all of her projects.
Within less than six months, Whitmer's contributions have led to the launch of Opportunity Fresno, an initiative focused on generating sustainable, equitable, and inclusive investment in Fresno. Qualified opportunity zone census tracts are defined by a poverty rate of above 20 percent or median income of less than 80 percent of the state's. Tax benefits in these economically distressed opportunity zones generate capital investments.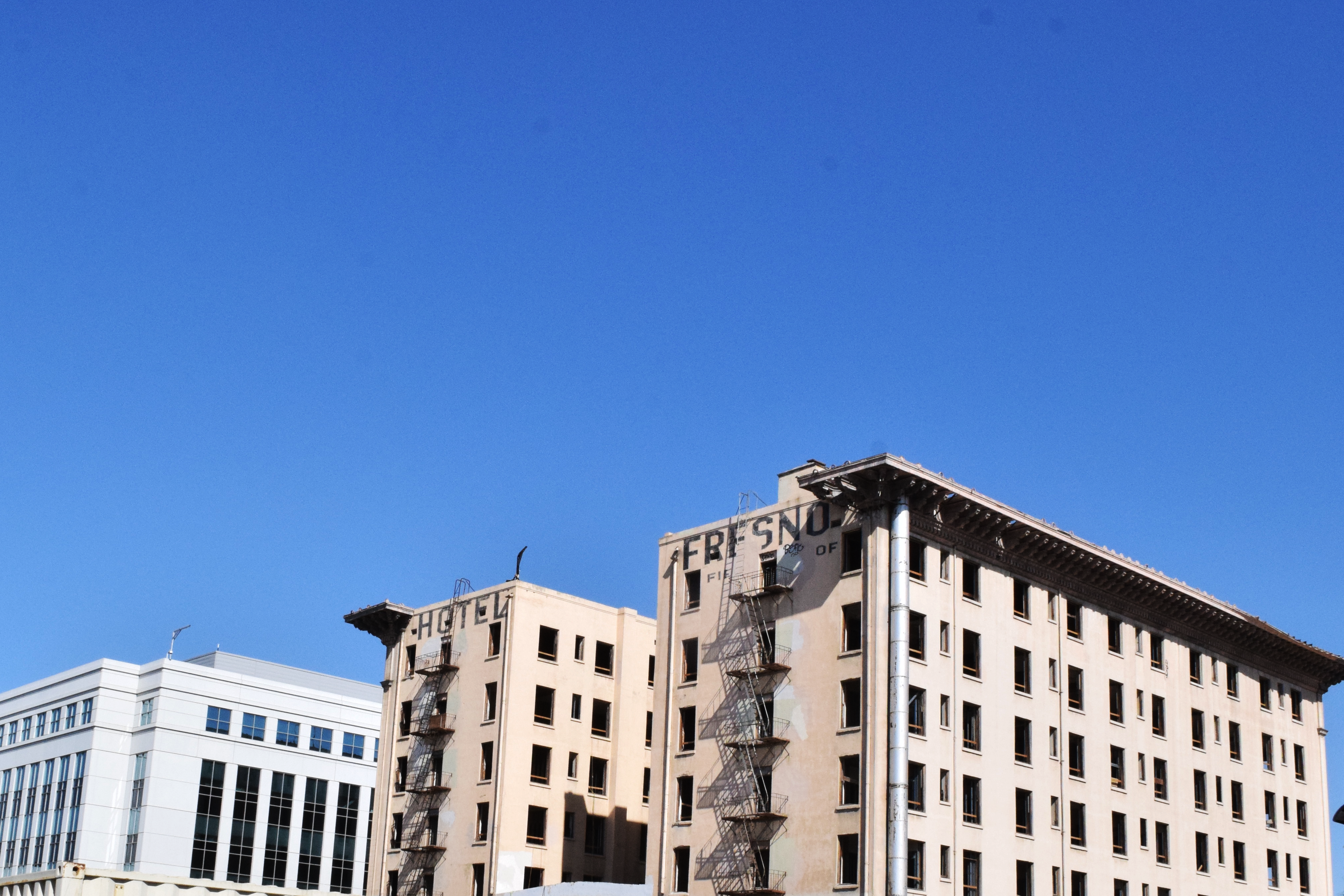 Hotel Fresno
Opportunity zones have laid the groundwork for affordable housing, as evidenced by the Hotel Fresno. Once considered the most luxurious hotel between San Francisco and Los Angeles, the historic building, which has sat vacant since 1983, is being refurbished into retail shops on the first floor and 79 apartments for low-income families. The rebuilding of the Hotel Fresno demonstrates an interest in both preserving the city's rich history and revitalizing the downtown. 
Today, Whitmer's work has pivoted in response to the critical needs of the COVID-19 pandemic. Tapping into her extensive background in digital marketing, Whitmer has built online resources for business owners in Fresno and led the critical outreach that is necessary. Her team is involved in distributing the funds ― totalling more than $2 million ― from the city's Save Our Small Business grant program.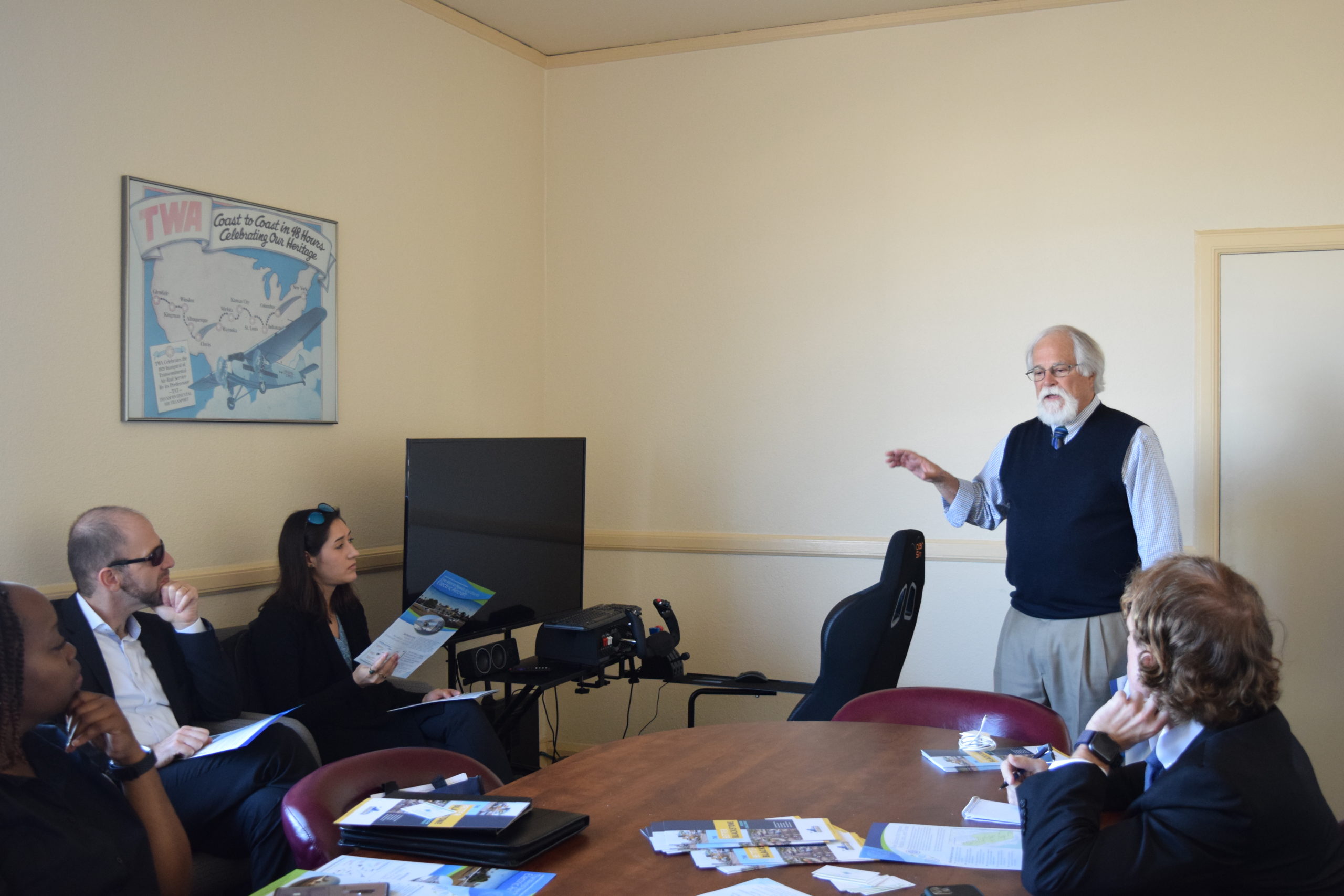 Keith Bergthold (standing) of Valley EV Aviation-Ground Innovations Coalition
2. Building Cross-Sector Partnerships
Valley EV Aviation-Ground Innovations Coalition is championing aviation as a forward-thinking initiative to help revitalize Fresno and the Valley. Electric aviation might not be the first thing that comes to mind in relation to Fresno, but Keith Bergthold, CEO of Regenerate California Innovation, and partner Joseph Oldham, CEO of New Vision Aviation, believe aviation is the answer to a number of the city's development challenges. In addition to Fresno serving as the location for Chandler Executive Airport, the broader San Joaquin Valley is home to 26 airports. The region has a climate that would allow flying almost 300 days of the year, close proximity to major markets, and uncongested air space.
Bergthold and Oldham suggest that in 20 years, the electric aviation industry is estimated to be $180 billion per year, and see a growing need for thousands of commercial airline pilots. The EV Aviation group plans to capture this market while simultaneously addressing two of the biggest problems in Fresno: the lack of access to STEM education and higher-paying jobs. By working with school districts, government organizations, and companies like Boeing, partner New Vision Aviation has already placed flight simulators and applied a hands-on curriculum that exposes traditionally underserved students to electric aviation and, more broadly, a STEM education.
"How do we lift up our youth and connect them, in ways they've never been connected before, to a growing industry?" Bergthold said. The long-term goal involves creating certificate programs at community colleges in order to build capacity at higher education levels. "We think we have the chance to work together to build a regional industry that could employ tens of thousands of our kids in an advanced industry that pays them and gives them the chance to be engineers and pilots."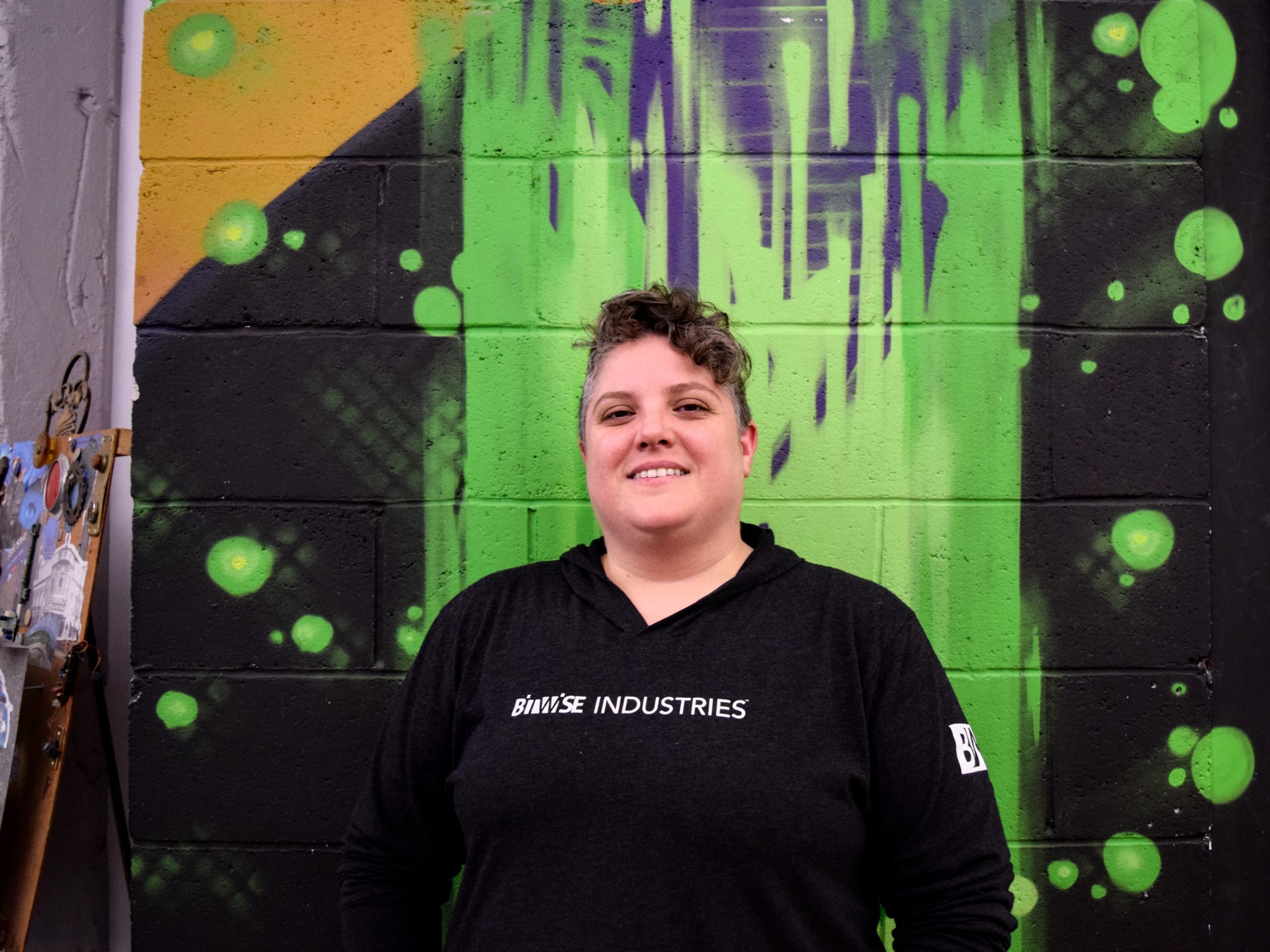 Talisha Brantley of Bitwise
3. Co-designing with the Community
In the Bay Area, tech is synonymous with disruption and the now-famous Mark Zuckerberg motto, "Move fast and break things." Yet in Fresno, tech companies are not willing to sacrifice intention for speed and instead work hand-in-hand with the community. 
The collaborative, entrepreneurial spirit is illustrated by Bitwise Industries, a hub that cultivates an ecosystem of local innovation by supporting budding tech talent in the community. Bitwise pursues this mission by operating Geekwise Academy, an accelerated tech training school where students often come from agricultural or non-college backgrounds; renovating and leasing 200,000 square feet of workspace in downtown Fresno; and hiring Geekwise graduates to work at Shift3 Technologies, its custom software company. 
Barely seven years old, the company recently secured $27 million in Series A funding and opened two new locations in Bakersfield and Merced. Talisha Brantley, director of events and community liaison at Bitwise, says the company is prioritizing underserved communities by building a team that's reflective of Fresno's diverse population. "We are trying to revitalize downtowns, and tech is the means for which we're doing this. You don't have to go to Silicon Valley. You don't have to go to Denver," Brantley said. 
In May, Bitwise held "No Place Like Home," an all-day virtual festival featuring Fresnan musicians, DJs, and artistic and culinary vendors. Held during a period that was stressful for both businesses and artists, the festival highlighted Bitwise's ability to adapt, pivot, and lift up the artist community during the pandemic.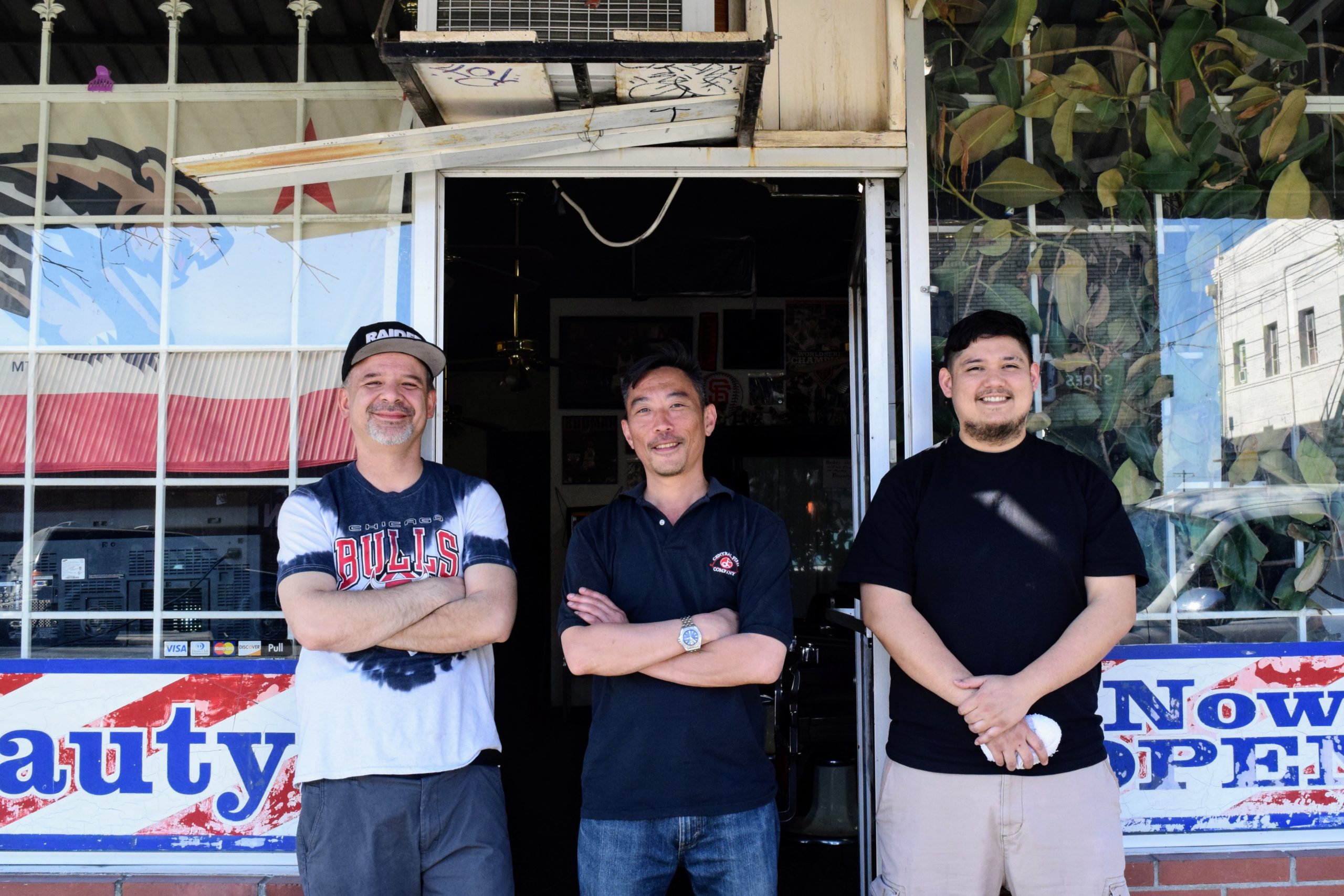 Morgan Doizaki (center) with local business owners in Fresno's Chinatown
4. Gaining Progress Through Infrastructure
For many Fresnans, the future of their city often feels dependent on the coming high-speed rail that will link Fresno to the Bay Area and Los Angeles. Ready for reinvestment, they eagerly anticipate the arrival of high-speed rail, which they foresee as an economic driver.
But not all are optimistic. Business owners in Fresno's Chinatown are hesitant, given the proposed tracks physically sever the neighborhood from the quickly developing downtown. The neighborhood, which was created through redlining and originally home to 11 ethnic communities, has suffered from a loss of business, decades of neglect from the government, and an alarming exodus of residents.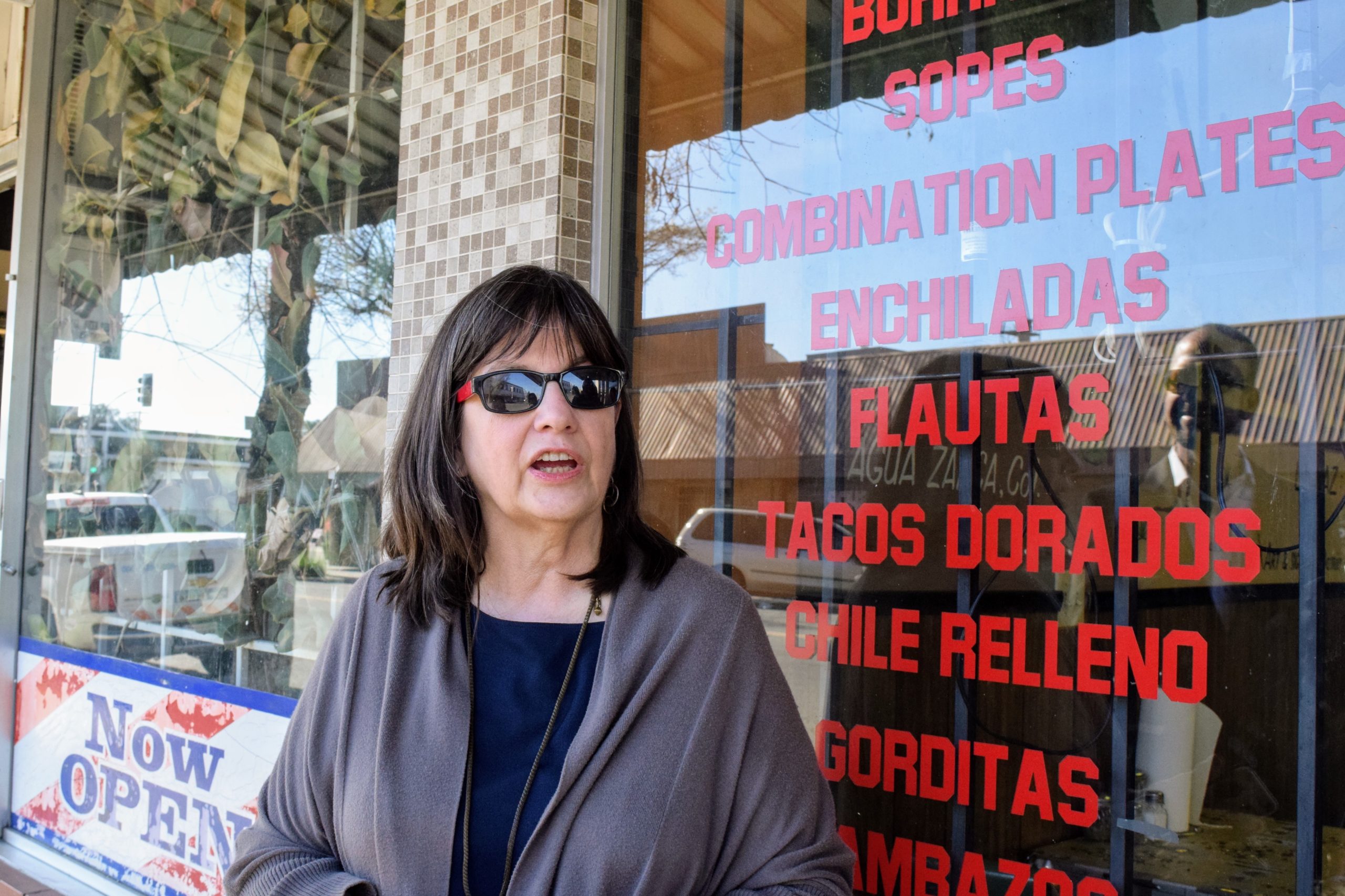 Jan Minami, executive director of Chinatown Fresno Foundation
At the forefront of Chinatown's community is Jan Minami, the executive director of Chinatown Fresno Foundation, and Morgan Doizaki, community leader and owner of Central Fish Market. Chinatown Fresno Foundation is dedicated to preserving the neighborhood's rich cultural history, advocating for resources, and preparing it for the completion of the high-speed rail, which, if done correctly, could present an opportunity to revitalize the area through the influx of riders. If you ask Minami, Chinatown's local food scene is its best strategy in capturing this future influx. 
Despite the struggles that many businesses face in Chinatown, the vibrancy of the quickly developing downtown reminds Fresnans that change is possible. Now, especially given the economic fallout of COVID-19, it's a matter of further engaging their community and prioritizing these innovative practices.
Feature Image: Morgan Doizaki, community leader and owner of Central Fish Market, in front of the site for the much-anticipated affordable housing project
Photo Credit: Caitlin Lee