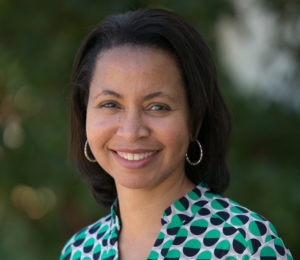 As a FUSE executive fellow, Wendy McCulley worked with the Fresno Unified School District (FUSD) and higher education stakeholders to increase secondary and post-secondary opportunities for students. During this time, she continuously explored ways to include the voices of students in the planning process. After her fellowship, Wendy joined FUSD as executive director of school leadership for the Office of African American Academic Acceleration (A4). The department's mission, which is to accelerate the academic achievement of FUSD African American students, is primarily achieved by providing direct academic services to these students and addressing the systemic barriers to their academic achievement. "I consider myself a social justice activist educator," Wendy said.   
How did the FUSE fellowship impact you?
I can unequivocally say that FUSE launched my career in education. I worked for years in business and discovered FUSE during the last semester of working on my graduate degree in education. The fellowship put my work at a highly visible level in the district, working for the superintendent and with higher education decision leaders in the city.
What are you working on now?
We are rolling out an African American student voice initiative, including an Instagram platform managed by students for students that reflects their lived experiences. Education is the only industry I've been in where the end users — students — are not consistently at the table to add input to the design of initiatives that so significantly impact them. In addition, we are improving our reading program, which we offered virtually this summer, for our after-school rollout in January. We are also planning a coding boot camp to accelerate math achievement for African American students next summer. 
What are you hoping to achieve in the next 6 to 12 months?
I initiated a task force that brings together stakeholders from the district and the surrounding community to reach a shared consensus and direction for programmatic, policy, and practice solutions to accelerating African American youth academically. We also agreed on recommendations to achieve the vision of academic excellence for these students in Fresno Unified.
The African American Task Force declared a state of emergency, an urgent call to action, and importantly that an ongoing and coordinated community and district collaboration is essential. The task force recommended seven targeted priority areas, which were approved unanimously by the Board of Education. The A4 department also set up an implementation framework.
I am now developing what I'm calling an "equity accelerator" to focus on the highest leverage recommendations to achieve more progress faster for African American students. This progress is even more important given the challenges of distance learning and the ravages of COVID-19 on the African American community.
Related work and press:
The Fresno Bee: Fresno Unified says the situation for its African American students is a state of emergency
CBS47 KSEE24 Local News: Education Matters: Program uses parents to improve kids' literacy