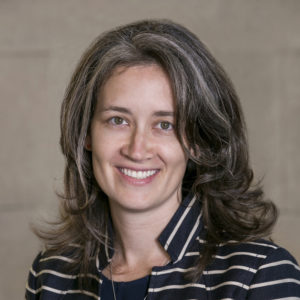 As a FUSE Executive Fellow, Ann Rogan (2017-19) worked with the Stockton Office of the Mayor to create workforce development programs and examined innovative economic opportunities and strategic business partnerships to further economic prosperity for residents. Since her fellowship, Ann founded Edge Collaborative. The organization's mission is to catalyze economic resilience in the face of increasing shocks to the economy and the climate. "Stockton is ground zero for trying out new ways to achieve resilience," said Ann.
How did the FUSE fellowship impact you?
In 2017, I moved from Silicon Valley to a city that is only 60 miles away geographically, but a world apart in financial resources, household wealth, employment base, and education levels. But Stockton, California, had a new sense of optimism and stability; a growing corps of young, educated, entrepreneurial returning residents; and a willingness to take on bold new ideas – all personified by one of the youngest mayors in the U.S., who  attracted attention and investment from around the country.
Working in the Mayor's Office with Michael Tubbs was a crash course in how local government can work with communities to bring about transformational change. The fact that innovative public policy was playing out in the Central Valley—one of the poorest and most rural parts of the state—was eye-opening. This is an ecosystem of people who recognize the city's history of disinvestment and are serious about addressing the resulting racial, health, and educational disparities. Professionally, my fellowship was a unique opportunity to bring an entrepreneurial lens to this work. I advised the mayor and served the public in City Hall for 3 years. I'm incredibly proud of the public-private partnerships that we initiated for workforce development, and our efforts to advance the City's climate and green economy agenda. Much of this work will live on through $50 million+ of investments slated to come into the city over the next 2-10 years. 
What are you working on now?
Elections can be incredibly enabling or deeply inconvenient. In light of the November 2020 election results and Mayor Tubbs' transition, I decided to 'spin out' my innovation portfolio from City Hall. I am now Principal at the Edge Collaborative, which will continue the work that we started, now outside of local government.  
My team has been an incredibly stabilizing force during the transition, and we've decided to double down on our mission to catalyze economic resilience in the face of increasing shocks to the economy and the climate. Having spent much of the last two years building public sector capacity around the green economy and supporting our environmental justice community, we're reimagining how we mobilize around climate. With a federal administration that looks to be moving aggressively on investment and forthcoming regulations, we're excited to explore and partner with the private sector on climate technology innovations. We function like a team of civic entrepreneurs, birthing new initiatives and then finding long-term homes for each of those projects in existing organizations across the city. 
Mayor Tubbs' leadership on universal basic income as a poverty alleviation tool has ignited a fascinating set of questions about what should happen next. What types of interventions should follow that can build equity into our systems? We're particularly interested in how to create sustained economic opportunities—whether that's how to innovatively finance workforce training, what it means for a city to lead on a Green New Deal, or how to create community wealth-building opportunities. Those questions have taken on new relevance and intensity during the pandemic, and we're excited to build towards those solutions here and elsewhere. 
Some of that work will happen inside of Stockton and some of it will happen outside, but our raison d'être remains the same: how can we build partnerships to advance economic resilience? We believe strongly in pioneering demonstration projects that will help folks understand what "building back better" can and should mean. If we can help visualize what's possible, we should all be able to move more quickly toward that vision.
What are you hoping to achieve in the next 6-12 months?
Safe gathering and rapid vaccine distribution! 
But on the work front: we're on a path to partnering with the local housing authority to build a green economy hub and lab. As we reckon with record rates of food insecurity and unemployment, we're committed to figuring out how to make it easier for folks to get into jobs. We know that climate investments will be an important part of the recovery, and we're looking at: air quality, electric vehicle car access, upgraded refrigeration systems and food production. On the community wealth front, we've been slowly seeding the Embers Project as a means to build the systems that will drive capital into long overdue means of community-driven development. 
Related work and news:
Palabra: Turning Stockton Into An Oasis of Joy
The Nation: This California Law Offers Biden a Tool in the Fight for Environmental Justice
Recordnet: $10.8M grant will fund environmental justice efforts in downtown, south Stockton
Photo Credit: Randy von Liski