Collaboration is the cornerstone of FUSE, and we are always looking for exciting ways to connect with government partners both new and existing. After a couple of years communicating with government leaders via phone, email, and virtual meeting rooms, our team was thrilled to once again attend The United States Conference of Mayors (USCM) in person. USCM is an annual conference where mayors from all over the country meet to discuss organizational policies and goals, advocate on issues, share best practices, promote their cities, and network to create connections with other government leaders. For FUSE, USCM offers an opportunity to expand existing partnerships, build new relationships, and learn about the most pressing current issues facing cities and counties. All of this enables us to tailor our projects to better fit the needs of each community we serve.

"Cooperation and collaboration is the most critical thing we can do," stresses Director of Strategic Partnerships Nicole Richardson, who represented FUSE at the conference. "We heard over and over, not only at the conference — we hear it all the time from cities and counties that we work with and that we are scoping projects with — that working in silos has created some of the gaps in services in implementation that cities and counties see now. Being able to destroy those silos and work in collaboration brings so many new ideas to the table."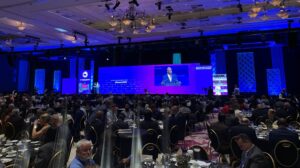 Climate resiliency has been a priority issue area for FUSE, and it was a key topic covered at USCM, with almost a full day dedicated to a plenary session of all climate mayors. "The issue of climate is a problem for the future, but to mayors it's a matter of keeping people safe with storms and climate-related crises," says FUSE Senior Director of Partnership Devin Romanul, who was also at the conference.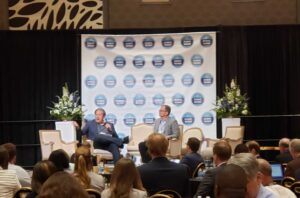 In the same public safety vein, gun violence and prevention was another significant issue area at the conference. Mayors across the board were eager to find solutions to end gun violence and keep their communities safe without over-incarcerating individuals. FUSE has been ramping up both climate resiliency and public safety and justice reform projects, so knowing that these issue areas are top of mind for mayors further informs our project scoping process, especially on how FUSE can best leverage the interactions of these different issue areas and offer support to cities and counties.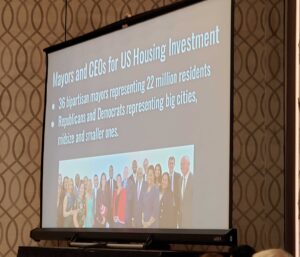 Ever since the American Rescue Plan Act (ARPA) was passed last year, government leaders have been trying to figure out how to allocate millions of dollars of federal funding most effectively. Nicole recalls a climate mayor at USCM mentioning "losing so many engineers that they weren't sure how they would be able to implement some of the resilience funding that came under the American Rescue Plan Act." As an ARPA-approved vendor, FUSE has partnered with local cities to help accelerate recovery from the COVID-19 pandemic, including in Nashville and soon, Milwaukee. Additionally, government partners with a need for capacity building often collaborate with FUSE, and the conference only reaffirmed this urgency of need. Nicole adds, "We had everyone, including the mayors themselves, say, 'Wow, [what FUSE does] is a great approach to bring capacity to our cities.' I had one mayor say, 'You had me at capacity. That's all you had to say.'"
"With so many people with the same objectives sitting in the same room from all across the country, you really feel like you're not only learning, but also helping to share some of the ideas and, hopefully, be a part of some of the solutions." — Nicole Richardson, FUSE Director of Strategic Partnerships
The conference gave mayors who had not yet heard of FUSE an opportunity to be introduced to our fellowship program. Moreover, it also helped open the door to other government officials who are key to helping FUSE collaborate with their city or county. Both Nicole and Devin highlighted the importance of meeting and holding in-person conversations with government officials. "It's nice to see people in person and have human interaction that results in deeper connections that might not otherwise happen," Devin says. "Our current regions continue to be important partnerships for us," Nicole echoes, "both to be able to deepen our relationships there and the impact we're able to have, as well as to extend across new issue areas that we maybe haven't worked on before." She gives the example of California: the City of Los Angeles and Los Angeles County are longtime FUSE partners, but having so many California mayors at the conference created a great opportunity for FUSE to start conversations with other California regions in the hope of forming new, future partnerships.
Like the communities we serve, FUSE meets our government partners where they're at. USCM offered an insightful look into real-time issues facing cities and counties across the nation. As we continue to strengthen existing partnerships and forge new ones, the conference helped bring clarity on how best to align our projects to ensure we are supporting our partners in effectively tackling their most pressing issues. Most of all, it reinforced FUSE's commitment to support local governments in their mission for a more equitable society through collaborative efforts.