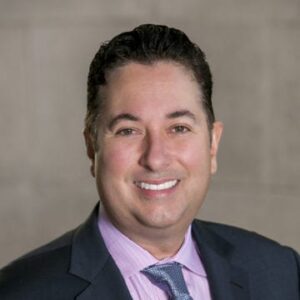 As a FUSE Executive Fellow, Rafael Bracero (2017-18) worked with the Los Angeles Office of Finance to improve how the city communicates its available services to underrepresented small business owners and streamline the registration and permitting processes for L.A. businesses. Rafael is now the Director of Marketing Strategy at MNTN, a performance TV adtech platform. In this role, he partners with key stakeholders on the long term strategy roadmap and go-to-marketing plans, and identifies key growth opportunities and risks from market, product, and competitive standpoints. Additionally, he is an Adjunct Lecturer at the USC Annenberg School for Communication and Journalism where he teaches courses on integrated communication strategies; global marketing communications; and storytelling, culture, and experiential communication. He also holds a board position at CHAMPS Charter High School of the Arts.
What was the impact of the FUSE fellowship on you (professionally and personally)?
The friendships that I developed at FUSE were one of the main highlights for me. A number of fellows in my cohort (2017-18) were based in Los Angeles, so we were able to get together for events and dinners often. We talked about public policy, vented about our projects, and gave each other advice. I still keep in touch with many of them.
Professionally, I started my career working in economic development at the World Bank and the U.S. Treasury Department, but I hadn't done something at the local level prior to joining FUSE. My FUSE project was focused on local economic development by helping empower underrepresented business communities in LA and leveraging research, outreach, and technology. It was very gratifying to be able to do that in the city where I live. There were also so many training and coaching opportunities that were really valuable for my project and future career.
What are the big challenges on which you are working now, what are you hoping to achieve in the next 6-12 months, and how has your FUSE experience prepared you to approach them?
After I left FUSE, I went back to the private sector, but I wanted to keep a toe in public service. Through my FUSE connections, I was recruited to join the board of CHAMPS Charter High School of the Arts here in Van Nuys, California. Helping to lead a school has been very challenging with COVID, but it also taught me a lot and gave me some valuable board experience. Recruitment is our main financial driver and our main challenge; I have helped to create a targeted marketing program to reach potential students and families.
Last October, I joined a company called MNTN (pronounced "Mountain"), which operates in the adtech space, as the Director of Marketing Strategy. MNTN created the first self-serve Connected TV platform that allows brands to target audiences in network CTV settings. It's a very complex product and industry ecosystem. My experience as a FUSE fellow, working on a highly visible project with multiple stakeholders and end-users, crystallized for me the importance of making the complex simple. That is a very important skill that has served me well during and after FUSE.
Juggling all these responsibilities is challenging (did I mention that my partner and I have a new 6-month-old son?), but you have to lean in and believe that you can get it all done. I am still settling into my new job, there's the baby, I'm on the Board of the CHAMPS school, I'm teaching 40 students at USC, I have a podcast, and I have to mow the yard. It's a lot, and sometimes the only way to stay sane is to let the waves flow over you. You're capable of doing a lot more than you think you can.
Related Works and News: 
MNTN: Meet Mr. MNTN [ad for Mountain with Ryan Reynolds]
Spotify Podcasts: WORKING MEDIA with Rafael Bracero
Apple Podcasts: WORKING MEDIA with Rafael Bracero