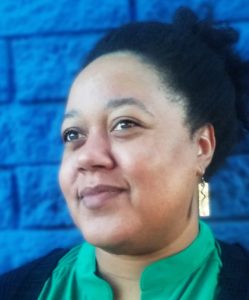 As a FUSE Executive Fellow, Stacy Cumberbatch (2019-20) worked with the Riverside County Economic Development Agency to develop an Opportunity Zone strategy that would lay the groundwork for an investment ecosystem that could effectively serve the local community. She is now the Founder and Managing Director of Blended Impact, a venture development firm that operates at the intersection of venture capital and economic development. The firm seeks to invest across asset classes in both tech and real estate and provide hands-on technical assistance via their innovation lab for their partners, including founders, developers, philanthropy, local government, and others.
How did your FUSE Fellowship impact you?
My year with FUSE was my first time working in the public sector. I came to my fellowship having spent years in real estate finance and venture capital. There was a huge adjustment period and I had to overcome a steep learning curve. I could not have completed the year without the tools and support network that FUSE provided.
Coming out of it, I have tremendous respect for the work done by local governments and community-based organizations. It is difficult work that takes time, but it's so important in setting the stage for long-term development. Having worked in public service, I can see more clearly how state and local government help pave the way for success in the venture community and in the broader business and economic development community
What big challenges are you working on now, and what are you hoping to achieve in the next 6-12 months?
At Blended Impact, we're particularly interested in finding ways to increase access to capital for minorities and economic development in budding markets. This means getting creative and specializing in tools like Opportunity Zone investments, crowdfunding, revenue-based financing, grants, and credits to help fill out a capital stack.
Over the next year, I'll be focusing on two to three investment priorities and executing deals in those categories. Tech and tech-enabled businesses will continue to be a focal point. I'm seeing amazing deals involving women who lead deeply technical companies that could have higher valuations with some capital infusion. In the built environment, we're seeing strong demand for workforce housing and childcare in our submarkets in Riverside and the Coachella Valley. So, we'll be looking to partner with more developers to meet this demand.
How has your FUSE experience prepared you for the challenges ahead?
My FUSE project was to launch the Opportunity Zone ecosystem in Riverside County, California, where I have continued to work, and which shapes my investment thesis. It is extremely gratifying work, but it's not without its challenges. The Opportunity Zone space is still young, and economic development itself is already a big lift. There's a lot of education, consensus building, and project management that needs to take place over a long period of time to make even the smallest change. I still use the tools I learned from my FUSE executive coach when I'm thinking through issues, and I continue to call on the FUSE network for support.