The City of San Leandro is focused on building residents' resilience to climate change through inclusive, community-driven pathways. As part of this strategy, it aims to plant 5,000 trees on both public and private property and engage local community organizations to become resilience hubs. In this partner highlight, we interviewed Hoi-Fei Mok, the sustainability manager at the City Manager's Office, about the climate goals the City is working on by 2026 and how a FUSE Executive Fellow will help support these goals through the Engaging the Community in Building Resilience project.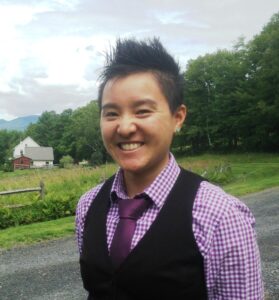 Hoi-Fei Mok (they/them) is an environmental scientist, artist, and organizer born and raised in Chochenyo Ohlone lands in the Bay Area. With a strong interdisciplinary background in environmental science, climate policy, and social justice, Fei aims to build out equitable community-driven strategies for local resilience to climate change in their hometown where they work as the City of San Leandro's sustainability manager. Fei's past research work encompasses global climate change, population genetics, and ecological modeling, and their PhD focused on wastewater reuse for agriculture. Greenbelt Alliance recently recognized Fei for their climate resilience work with the Hidden Hero of the Greenbelt award in 2022. Fei serves on the National Adaptation Forum equity advisory committee, the Bay Area Climate Adaptation Network (BayCAN) executive committee, and Urban Sustainability Directors Network People of Color Support Initiative. Their organizing experience includes co-founding the California Black Indigenous People of Color (BIPOC) Climate Network, supporting Sogorea 'Te Land Trust in indigenous land rematriation, facilitating conversations around racial justice, and building queer and trans Asian Pacific Islander community. Their artistic endeavors with Art Without A Frame reflect their commitment to social and environmental causes, and have included projects with Yerba Buena Center of the Arts, Melbourne Midsumma Queer Arts and Culture Festival, and the United States Asian American Festival.
Why is the Engaging the Community in Building Resilience project important? And what regional and national impacts do you hope it will have?
The Engaging the Community in Building Resilience project tackles two key program areas: tree planting and resilience hubs. The City of San Leandro has gotten a $1.49M CalFire grant to plant an ambitious 5,000 trees by 2026 to address extreme heat, air pollution, and climate change, particularly prioritizing low-income communities and areas facing high pollution burden. These trees have immediate health benefits in cleaner air and mitigating summer heat as well as long term carbon sequestration. In addition to the trees themselves, the volunteer driven model allows for leadership and capacity building among the community. The City is partnering with a number of regional agencies on this work and planting trees in the neighboring unincorporated Alameda County communities as well as in San Leandro.
In the resilience hubs initiative, the City is preparing to apply for a state planning grant to strengthen the collective governance structure of the eight resilience hub members, expand recruitment to help the governance group better reflect the City demographics, and develop a workplan for the resilience hubs. Resilience hubs are some of the most promising and equitable approaches to scaling up local resilience. As described by the Urban Sustainability Directors Network, "existing trusted community-serving facilities can become resilience hubs by increasing their adaptive capacity and augmenting their building systems, such as with uninterrupted power. When there is a disruption, they want to be prepared to meet their neighborhood's specific needs in that situation, which may range from food distribution to shelter." They center equity by creating power-building opportunities and relying on community leadership and expertise in governance and decision-making processes. Resilience hubs will allow the City to deepen its partnerships with communities, better distribute information and resources, and engage in community-driven planning processes.
Both projects demonstrate innovation and a deep commitment to equity that can be models for the region and nation on how to work with communities in a just climate future. Support from FUSE contributes to community capacity building, better health for residents, and stronger collaborative partnerships.
How do you envision the FUSE Executive Fellow will support the long-term goals of this project?
The FUSE Executive Fellow would be essential to increasing tree canopy and reach of the resilience hubs. The Executive Fellow would take lead on the CalFire tree planting project and manage the day-to-day with the community partner Common Vision, from coordinating event logistics, ordering trees, troubleshooting with the Public Works Department, and developing new programmatic elements. One crucial component is expanding the program beyond the large-scale plantings to the residential plantings, which will target more specific heat vulnerable and poor air quality neighborhoods. The Executive Fellow will also support the resilience hubs work in planning and facilitating the bimonthly governance meetings and workshops, issuing seed funding through the American Rescue Plan Act, and supporting hub sites in developing work plans for their priority projects.
FUSE and the City of San Leandro are currently recruiting an Executive Fellow for this partnership. (Job link removed; no longer available)