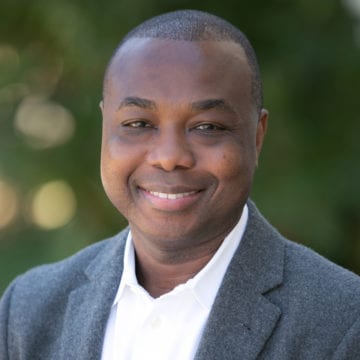 As a FUSE executive fellow, Dr. Frederick White (2016-17) worked with the City of Los Angeles Office of the Chief Administrative Officer to explore innovative financing vehicles that can expand opportunities for development and help incorporate those models into a long-term housing strategy for the City. He developed a series of recommendations to expand the City's current housing preservation and development resources in a manner that aligns with Real Estate Capital Markets financing tools to incentivize developers to create mixed-income housing.
After his fellowship, Dr. Frederick was a VP/senior portfolio manager for State Street, a global custodial and investment management firm. He returned to the City of Los Angeles in 2019 to serve as the Senior Housing Finance Officer for the Mayor's Housing Solutions Team in the Office of City Homelessness Initiatives. He also serves as a Board Director for the California Housing Finances Agency and earned his Doctorate in Business Administration from Florida International University in 2022. 
What was the impact of the FUSE fellowship on you (professionally and personally)?
FUSE has allowed me to meet and connect with some of the smartest and resourceful people that I have ever known. I have been able to cultivate lifetime friendships with colleagues that I would work with in a heartbeat.
Prior to the executive fellowship, I had not consulted with or worked for government. My professional journey up until the executive fellowship included all aspects of commercial real estate investment management. I was somewhat intimidated on the first day of the fellowship orientation but that ended quickly. The support and resources given to me helped me present my skills and value as a real estate investment management executive and incorporate this lens into my fellowship.
"My cohort helped me think through approaches to working with government and FUSE provided me with resources on how to frame government policy."
After my fellowship, I had a good sense of my value in government, specifically in the affordable housing production and preservation space, which included bringing an alternative lens to funding housing through private sector collaboration and engagement. My experience as an executive fellow with the Chief Administrative Officer (CAO) office, the Mayor's Office, and the Los Angeles Housing Department (LAHD) has given me ground-up exposure to the challenges municipalities face with providing affordable housing for their residents. Being on the ground working with civil servants (those that understand the challenges intimately) on affordable housing funding/policy recommendations and seeing projects come online is immensely rewarding.
I remain engaged with FUSE to this day, through my work on the ground, my alumni cohort who are like family to me, joining FUSE learning sessions, supporting the interview process for new fellows, and serving on the advisory board for a project that was led by a former FUSE fellow.
I even managed to use our COVID shutdown to focus on completing my dissertation, Increasing Institutional Asset Owner Capital into Mixed-Income Housing, and earned my Doctorate in Business Administration from the Florida International University in 2022.
What are the big challenges on which you are working now, what are you hoping to achieve in the next 6-12 months, and how has your FUSE experience prepared you to approach them?
The journey that I started through the fellowship and my work in affordable housing continues — it is life work. The big opportunity will remain the same for me: having a positive impact on the housing ecosystem, breaking through bureaucracy, and expanding private sector collaboration with government.
I am working to publish aspects of my dissertation around mixed-income housing. My research included significant findings regarding institutional asset owners' perceptions, motivations, and attitudes toward investing in mixed-income housing. One significant factor was the public sector's role in creating well thought out policy and incentives that encourage institutional asset owners to invest in housing.
Currently, my role involves administering the City of Los Angeles' Housing Challenge program. The program has several permanent supportive housing projects under construction. I work with developers to secure all financial commitments and workshop with a broader team to streamline the development process.
Related work and news:
LinkedIn Profile: www.linkedin.com/in/fpwrealestate
Florida International University Digital Commons: White, F. (2022). Increasing Institutional Asset Owner Capital into Mixed Income Housing