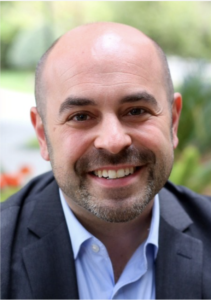 As a FUSE Executive Fellow, Jeremy M. Goldberg (2012-13) worked with the San Jose Office of the Mayor to develop the Silicon Valley Talent Partnership, the city's first public-private partnership enlisting pro-bono talent from local companies to make public services more effective for residents. Since the conclusion of his fellowship, he has gone on to hold leadership roles in two city governments and the state of New York and served as a strategic consultant to the city of New Orleans. Recently, he became the Worldwide Public Sector Director of Critical Infrastructure at Microsoft.
In his new role, Jeremy brings Microsoft's partnership and technology resources to bear on efforts to modernize state-owned utilities, enable the next generation of intelligent public transportation, and enhance back-office functions, in order to deliver transparent, convenient, and trusted public services in cities. "Our work ahead is to understand the problems that governments face in critical infrastructure, and from there solve problems in order to meet the needs of residents seeking information and services." said Jeremy.
How did the FUSE Executive Fellowship impact you?
My fellowship experience in San Jose City Hall led to an unexpected (and welcome) eight-year journey working with local and state governments in different technology leadership roles, harnessing the internal expertise of government teams and enabling public-private partnerships.
Prior to FUSE, I worked for an emerging markets consulting company focused on public-private partnerships and co-founded a nonprofit working in sub-Saharan Africa. After about a year of living and traveling in Mexico City, I started a Master of Public Affairs program in San Francisco, but I also wanted to pair that educational opportunity with real-world application of political and policy theory. A friend shared the FUSE Corps fellowship, and it seemed like a great chance to tackle big, bold problems.
The FUSE Fellowship was invaluable to me as an introduction to civic innovation in local government. After completing my fellowship, I moved into new roles with Mayor Chuck Reed's office in San Jose, including Deputy Chief of Staff for Civic Innovation. I also worked with the Cities of New Orleans and San Francisco, including co-leading Civic Bridge and expanding Startup in Residence in the Bay Area. From there, I was recruited to New York City by former CTO Miguel Gamino to design, develop and launch NYCx, the first initiative of its kind to establish New York as a providing ground for emerging and breakthrough technologies and new business models. Most recently, I served New York State as Deputy Secretary for Technology and Innovation and Interim Chief Information Officer where I led the IT agency's efforts through the first wave of the COVID-19 pandemic.
The positive professional impact is immeasurable, and I'm proud of the work I did, the teams I learned from, and the impact we had in the communities we served. In government, especially at the city level, you can see very clearly and quickly when you are making an impact. (When you aren't making the right kind of impact, the public will tell you that, too!)
Through my engagement with the fellowship, as well as with coaches and mentors such as Peter Furman, Dave Viotti, Judy Issockson, Lenny Mendonca, Erika Dimmler, and Jennifer Anastasoff, I gained a greater understanding of the importance of learning what came before and building from there. I also learned the value of starting small, putting points on the board, and collaborating with partners who value diversity and impact. I'm religious about maintaining a growth mindset, which was another of my biggest takeaways from the fellowship.
FUSE also underscored for me the importance of active listening and asking questions in order to learn from others in the places that you work and live. Be a student. There are gems of insight that you can gain from people who have lived with these problems for decades. Approach interactions with empathy and be authentic, rather than come in half listening and thinking you have the solution already figured out.
What are you working on right now at Microsoft?
As I'm still relatively new to the role, one of my main activities is to learn more about the company—meeting people, understanding the business verticals, capabilities, and services; and identifying opportunities to dig in and demonstrate value. I'll be developing internal strategy for our field teams and colleagues within and across the Worldwide Public Sector team, building off of the great work that's being done by colleagues globally and helping to think through new approaches to digitizing government services.
I call it, enabling modern government: helping governments to be more collaborative and agile, and thinking carefully about how that translates to the experience for residents on the front end. I'm focused on critical infrastructure, which is in the news daily given the Biden Administration's American Jobs Plan, and which is a cross-cutting topic. It includes roads, bridges, rail, supply-chain, and the power grid; and, it also covers water utilities and communications. Sometimes the impact and importance of investing in critical infrastructure is visible, and at other times it can go unnoticed until there's a failure, like a blackout or power outage. How do we make infrastructure more visible and highlight the impact of government efforts on this front? Technology can help us, especially by improving residents' experience of government-owned services, thereby building trust.
What are you hoping to achieve in the next 6-12 months?
Continuing to partner with the Worldwide Public Sector team and colleagues to advance Microsoft's trusted leadership in digital transformation and, in particular, our leadership in the global cloud market. Secondly, taking an actionable strategic plan for critical infrastructure to market, and sharing insights with global governments to assist in their digital transformation and COVID-19 recovery.
Related work and news:
Microsoft Industry Blogs: Strong distributed workforces mean stronger governments
Nextgov: How Forward-Thinking Investments Will Build the Future of Digital Government
StateScoop: Why it's time for state IT to have a 'federalist moment'
Photo by Paul Frenzel on Unsplash