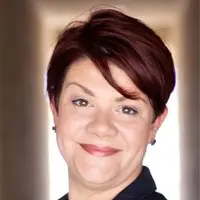 As a FUSE Executive Fellow, Dr. Jessica Herbert (2018-20) worked with the Los Angeles County Probation Department, Juvenile Services Division (JSD) to support JSD's transition within juvenile justice reform. She then led project teams through a strategic planning process to ensure that the agency's engagement activities—including intake, placement, and transition services—align with its broader mission to support youth and their families. Dr. Herbert is now the CEO and Founder of IDEA Analytics, a woman-owned small business with an extensive national and global portfolio as a strategic partner for local government, public safety agencies, and nonprofits seeking data-driven solutions for community services.
What was the impact of the FUSE fellowship on you, professionally and personally? 
When I started my fellowship with L.A. County Probation, I had just spent three years working on a partnership with policing on youth development and trauma-informed care programs in middle and high schools. We were trying to address ingrained practices that are very hard to overcome—things like criminalizing youth behaviors caused by trauma and past community-police experiences. This was especially challenging because all of the stakeholders had very different perspectives on the problems that we faced.
That remains the biggest challenge in juvenile justice: How can you convince people to buy into change, even if the results may only show 10 years down the road? How do you influence an entire generation of staff who have historically been rewarded for doing things a certain way, even though the research shows us that way doesn't work? 
My fellowship was definitely a good placement for me. It allowed me to practice and refine aspects of project management and design thinking. The number-one value that FUSE gave me was the ability to interact and build connections with people working in other parts of government. So much of public safety work touches areas like economic development, public works, and education. Having access to the FUSE network meant that I could find someone who understands transportation planning, or someone who knows financial models for parks and recreation. It was invaluable to me to learn other professionals' perspectives on how other government decisions were made because those decisions impacted the community stakeholders within my project as well. 
What are the big challenges on which you are working now, what are you hoping to achieve in the next 6-12 months, and how has your FUSE experience prepared you to approach them?
I have had a long career in criminal justice, a space that has been changing rapidly over the last decade. We know from research that the system has not worked effectively for a long time. We also know that criminal behaviors originate from challenges in youth development and the environments in which people live. That's why we need to focus on building communities with collective practices between residents and government.
Another important challenge is using data in an equitable manner in the public safety field. People have emotional opinions about the police; do we abolish them, do we reallocate funds from them? These are not easy topics to address, particularly when there are strong opinions about what police should or should not be doing in communities to effectively measure performance. The criminal justice field needs to do better in measuring activities that reach the desired outcomes of safety. For example, arrest rates have little impact on overall crime trends. It is time for criminal justice agencies to focus on better data details to solve problems and build capacity to actively prevent persons from seeing criminal behaviors as an option. My company, IDEA Analytics, helps agencies find the right measures for justice and social services. We help public officials understand what their data is telling them.  
Right now, IDEA Analytics has some great projects across the nation. We are working with several cities that are focused on organizational change and building their analytical capacity to re-think public safety services and resources. We are also excited to launch some national programs this year: one focusing on human trafficking and how local governments and public safety can support underserved and underrepresented populations that are victims of crime, and another building data capacity in governments.