Autumn McDonald, a 2015-2016 FUSE Fellow, worked with the cities of San Francisco and Oakland on the Bay Area Women's Summit, a landmark event designed to bring together leaders in government, business, philanthropy, and education to advance policy on equity, empowerment, and opportunity for women.
One of McDonald's goals was to expand the original summit agenda from how women can lean in and move up, to an action-oriented conversation on how the middle-class working-class, and working poor can be empowered in work and life by tackling the hurdles in the way, issues like childcare, pay equity, and others. To do this successfully, McDonald had to integrate approaches from her private-sector positions into her government role. These are some of the tactics and approaches she used. [Read more about her project.]
Start At the End, Then Work Backwards
Because public sector projects are often long-term and ongoing, it's hard to find an "end." But defining an end goal first as a framework — even if it's modest — can be helpful in achieving it. Think: What do I want the outcome to be, and how do I work backwards? And based on that, here are my goals, here's my vision, here are my activities that achieve those goals.
Whiteboard Ideas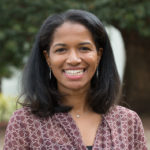 Though it sounds simple, one of the first things I did was talk about the need to "whiteboard" our ideas for the summit and think through them creatively as a team. The exercise of writing ideas on a board for everyone to see, making visual connections to ideas with arrows and word clouds, playing out different scenarios through illustrations — all these visual tactics allow team members to participate actively in meetings. In the summit planning sessions, once we decided the focus of the event, then we framed it out from there. If these are the three points of focus, then how does that fit into one overarching theme?
And it was a success — the staff and advisers wanted to do more whiteboarding sessions. In fact, the exercise led to the insight that teams need bigger spaces to hold these kinds of interactive, working meetings.
Collaborate Creatively
I think part of the reason whiteboards weren't used before was the culture encouraged people to think things through on their own, but whiteboarding is much more about team thinking. It's really about how to work creatively together. When people are accustomed to working on their individual projects, there's rarely an occasion to work together if projects don't relate to each other. People keep each other updated, as kind of an informed FYI. But activities like whiteboarding are a forcing function to get people accustomed to a different way of working, to collaborate creatively.
Maximize Informal Face-to-Face Time
One thing I learned in this government role was to take the time to connect with people face-to-face. In my role, I needed to do more connecting across different departments, to figure things out through informal conversation. Building energy around informal dialogue and coffees face-to-face can be so valuable. I rarely called anyone on the phone, I sent some emails, but I was constantly out talking with people. I felt that was the tone in the Mayor's office — people getting food together and talking, out doing things together. It fused the bonds between us.