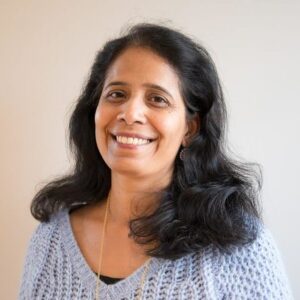 Hyma Menath served as a FUSE Executive Fellow from 2019 to 2021, partnering with the San José Office of the City Manager to devise a racial equity framework for city operations. She bolstered organizational transformation, leveraged data strategically, and designed a racial equity-based survey process to aid economic recovery, including launching a virtual incubator for small businesses in East San José. Additionally, she played a pivotal role in establishing San José's Office of Racial Equity by supporting strategic planning, instituting accountability measures, and enhancing its capacity.
Post Fellowship, Hyma took on the role of a racial equity impact facilitator and ecosystem collaborator, focusing on enhancing racial equity within government sectors, foundations, and communities. Now, as the FUSE director of fellow support, she is the main liaison for FUSE Executive Fellows and oversees alumni relations, strategic initiatives, and partnership endeavors.
What was the impact of the FUSE Fellowship on you (professionally and personally)?
It was magnificently serendipitous! I had never worked in the public sector prior to the FUSE Fellowship. For background, my career and life journey has taken me from my home country, India, to working in the corporate world in many locations in Asia, the UK/Europe, and the USA. My career and interests have always been at the intersection of publishing and technology. When [FUSE's Senior Director of Recruiting] John Kendzior contacted me to apply for the Fellowship, I was running my company Talking Cranes, helping global tech companies create better multicultural workplaces.
I am a systems thinker and the frustrating thing about the corporate world is that between what it says and what it does, exists the formidable bottom line. It is almost impossible to create systems change without inspired leadership and a willingness to put people before profits. The FUSE Fellowship came at a time when I was trying to understand how to work with organizational systems — instead of just training programs and hiring policies — that fundamentally change structures. My FUSE Fellowship experience has been a learning journey in how to disrupt the status quo by changing conversations, processes, budgets, and power hubs – in effect, changing hearts and minds so that systems change eventually brings about harmony by building a more equitable world.
On a personal level, I am an immigrant straddling between my country of birth, India, and my adopted country, America. My family and I didn't have much growing up, but my parents raised me and my brother to read widely, care about politics and history, and engage deeply — not only with the external world but also with our inner selves by inquiring about our true nature, the common human consciousness that connects us to each other regardless of our race, culture, or backgrounds. Analyzing and understanding emotions and feelings specific to racialized societies are key to developing effective policies and programs that bring change. Connecting people is powerful. It brings us much closer to acknowledging and shaping our shared humanity. I see that as a gift.
Connecting and working with community groups during my Fellowship years has taught me to connect systems and people in ways that I had not experienced before — to think about systems change and racial equity as consequences that live in people's bodies.
What are the big challenges on which you are working now, what are you hoping to achieve in the next 6-12 months, and how has your FUSE experience prepared you to approach them?
I am excited to join the FUSE family as the director of fellow support. I was part of the COVID cohort (2019 – 21) as an Executive Fellow. Our cohort learned so much more about how race predicts socio-economic and health indicators. Like many other agencies, my agency, the City of San José, was focused on addressing systemic inequities. My Fellowship was a crash course in hands-on racial equity work, co-designing and implementing programs with Community, facilitating difficult race-based conversations, understanding how to leverage geographic information system (GIS) technology to tell powerful human stories, developing better and more equitable data infrastructure, finding ways to support women small business owners, reprioritizing work streams and services with a racial equity lens, and so on.
Racial equity work touches all departments and areas of work. It was both exhilarating and exhausting to get to work on these matters, learn something new every day, and collaborate with so many amazing community organizations and members with a singular focus on people's health and well-being. I am excited to bring all of that experience into my current role.
FUSE Executive Fellows are experienced leaders with a track record of accomplishments. What they do in their Fellowship years — disrupting the status quo and addressing challenges like sustainable development, water management, mental health, access to housing, and so on with inequities of systemic racism baked into them — is nothing short of inspiring. A big part of my job now is to provide thought partnership and ongoing management support throughout the Fellowship in pursuing their project goals and accelerating systems change.
Having once been an Executive Fellow, I relate to the highs and lows of what they are experiencing. I see their dedication and passion but also doubt whether their work will indeed make a difference. As a racial equity practitioner, my job is also to challenge Executive Fellows to consider if there are further ways to maximize equitable opportunities and impact, especially for those who have been marginalized because of their race, ethnicity, or other identity markers.
Related work and news:
City of San José Recovery Plan – State and Local Fiscal Recovery Funds 2021 Report