Like many American cities, Milwaukee is grappling with the increasingly severe impacts of climate change while facing a history of pronounced racial disparities. With a rich industrial past, the city has seen its fair share of ups and downs. From being a beacon for people of color during the Great Migration to grappling with deindustrialization in the 1970s and 80s, the city's journey reflects the complex interplay between economic shifts and racial disparities. Environmental justice issues crept in over time, further complicating the city's challenges.
In June 2023, the City of Milwaukee's Common Council approved the Climate and Equity Plan and Mayor Cavalier Johnson signed it into law. This plan culminates three years of work, with public input through the City-County Task Force on Climate and Economic Equity. FUSE Executive Fellow Deneine Powell (2022 – 23) was brought on in the last year of the process to solicit additional public input and help finalize a comprehensive draft for the plan.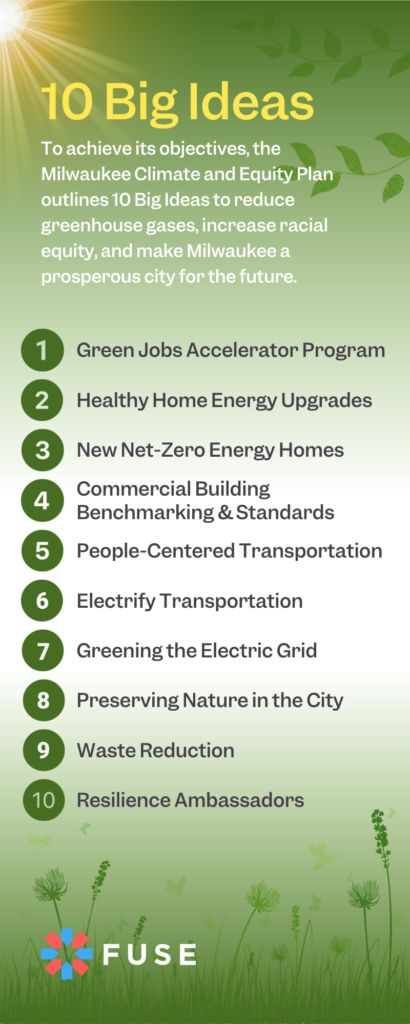 The plan revolves around 10 Big Ideas: a green jobs accelerator program, healthy home energy upgrades, new net-zero energy homes, commercial building benchmarking and performance standards, people-centered transportation and urban design, electrifying transportation, greening the electric grid, conservation in the city, waste reduction and sustainable consumption, and empowering resilience ambassadors.
The Environmental Collaboration Office Director of Sustainability, Erick Shambarger, has been working with the City for over two decades, mainly leading environmental sustainability in the city. Particularly, he is excited that one of the ten big ideas in the Climate and Equity Plan is focused on renewable energy. "People don't often make the connection that energy policy and climate policy are really the same thing because the problem is we've got to get off of fossil fuels," he explains, "We have to find cleaner energy sources and use less energy in the first place."
A Tale of Disinvestment and Segregation
The legacy of disinvestment and job loss in Milwaukee's central city neighborhoods has made the metropolitan area one of the most segregated in the United States. The White flight movement, where many White families fled to the suburbs, led to restrictive policies and practices, like redlining. This prevented people of color from having the same opportunities to move. "You end up with a city where you have concentrations of people of color in poverty, and it's in certain neighborhoods," Erick adds, "People of color are often the last to get hired and the first to lose their jobs in economic swings because of racial disparities and other issues."
The City's acknowledgment of these disparities is the first step toward making meaningful change. The Climate and Equity Plan recognizes these challenges and aims to address the inequity Milwaukeean communities have faced for decades. "The acknowledgment of it helps us when we are making these plans, and we say we're going to do something more, and we're going to try to reverse these disparities," Deneine notes, "We're moving in the right direction now."
Connecting Climate Action with Immediate Needs
Engaging the community in the climate planning process was essential. In 2019, the City created the City-County Task Force to help inform climate and racial inequity in the region. The Climate and Equity Plan builds on Refresh Milwaukee, a plan released in 2013 that focused on creating a vision for community sustainability and making Milwaukee a world-class eco-city. However, the Climate and Equity Plan considers a key component of environmental justice that Refresh Milwaukee was missing: the intersection of race. "During that time of the task force creation was the George Floyd incident, and I think there was this awakening around racial equity. So the County Board and the City Council said we need to have a task force specifically on the intersection of climate and racial equity," Erick explains.
Of the 10 big ideas, the task force members most resonated with adequate housing, well-paying green jobs, creating a more livable community, and pedestrian- and bike-friendly streets. "It's tricky when you do outreach on climate issues — trying to tie issues of climate change, which is generally catastrophic and more global in nature, and connecting that with people's immediate needs and what they're dealing with on an actual day-to-day basis," Erick reflects.
What we were hearing from residents was that the climate crisis has risen to the top of priority focus areas and I think people finally realize that this is not just one of many environmental issues, but it's maybe the central environmental crisis that we have.

Erick Shambarger, City of Milwaukee Environmental Collaboration Office Director of Sustainability
Erick was brought on as the project manager to turn the task force recommendations into a City plan. At this time, the City recognized the need to organize a communication and outreach team, and that was when FUSE was brought in to help. As a FUSE Executive Fellow with the City, Deneine helped support the coordination and facilitation of meetings, ensuring they were as diverse and inclusive as possible. "When you're doing an official plan, you have to be more intentional about following processes that get more people involved," notes Erick, "Deneine was brought on to make sure that we were bringing more people of color in the task force and giving people a chance to speak that maybe don't have time to be on months and months of working groups, but still want their voices heard." The task force included over 80 members from different advocacy groups, including Citizen Action of Wisconsin, Sierra Club, NAACP, and Clean Wisconsin.
Listening to community input was paramount to informing the Climate and Equity Plan on existing gaps the City needed to address to serve the residents better. "Early in the discussions, maybe I aimed in the wrong direction. We were talking about EV stations, and nobody wanted to hear about that. Suppose you start a conversation about electric vehicles with somebody who makes $32,000 a year. In that case, they're going to shut down because that's out of their price range — that's out of any space they have as far as affordability goes, so they don't care about EV stations. They don't care about electric cars. They do care about public transportation. They do care about jobs. They care about their homes being more energy efficient and staying warmer in the winter and cooler in the summer," Deneine remarks, "It was easy to shift gears and focus on what's going to be best for the community members in this neighborhood. And once we figured that out, the conversations became very effective."
Innovative strategies were employed to engage the community, including video interviews allowing residents to share why they care about climate change from their homes. This approach proved effective, particularly during the height of the pandemic, and could serve as a model for future outreach efforts for the City. Town hall meetings were held at the downtown Central Library. Still, they were also broadcasted at two other locations, including a library on the south side of the city and the local community development organization Sherman Phoenix, allowing community members to participate remotely. The City went beyond to publish videos answering missed questions from the town hall meetings to ensure the public was as informed in the planning process. Deneine and State Representative Supreme Moore Omokunde also hosted Climate Conversations in communities around the city to further outreach and engage with residents.
While Deneine notes that better outreach could've been made to the Hispanic population in the south side of Milwaukee, she believes the task force was successful overall. "We were able to really connect with a lot of individuals throughout the city, and the representation was fairly diverse and not just limited to one or two demographics," Deneine reflects, "We saw across-the-board engagement, unlike anything I've ever seen before."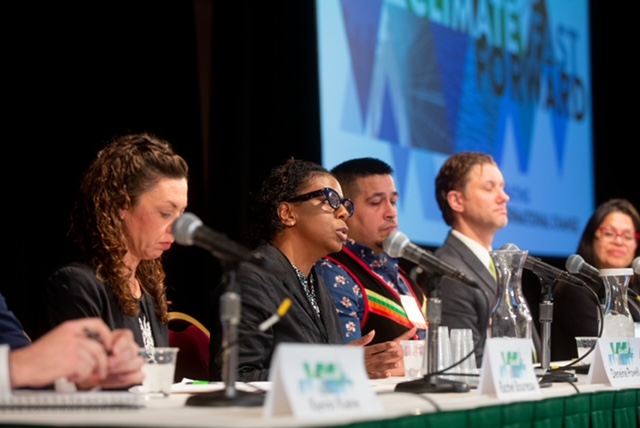 The Quest for Green Jobs and Workforce Development
Creating green jobs is a key focus of the plan, but it's not without its challenges. Milwaukee recognizes the need for a climate-ready workforce and actively seeks ways to bridge this gap. Initiatives to align training programs, attract diverse talent, and support employers in hiring from these programs are in the works.
The Green Jobs Acceleration Program aims to employ more people of color in family-supporting green jobs. As the City plans to increase the number of green jobs in the area, 40% of green jobs will be held by people of color, with entry-level jobs starting at $40,000 annually. "Many of the other disparities — health care and housing and all these other disparities — stem from the fundamental problem of people not making enough to invest in them, let alone get by," Erick points out, "You've got to have adequate income to invest in health care and preventative health and all that other stuff."
The City established the $40,000 a year starting salary to increase the income for people of color in Milwaukee, including that of Black families whose median household income is $34,000 yearly. Erick acknowledges that inflation has increased since the task force came up with the number, but "it's certainly a step forward from where many families are at right now."
Building a robust industry of green jobs from the ground up requires a delicate balance. The City recognizes the need for skilled training for higher-paying specialized roles while including opportunities for jobs requiring no training. "The trick is we've got to get more people of color excited about green jobs," Erick states, "We've got to clarify what the training programs are for those jobs."
Another challenge the City must consider is ensuring a demand for the new wave of green jobs in Milwaukee. Additionally, many higher-paying jobs involve laborious work, often outdoors, so recruiting younger talent may require more effort from the City. "Creating green jobs is easier said than done," Erick explains, "You've got to line up employers to hire people coming out of those training programs. So you've got to figure out how to line up grants and programs to help support that." With the new Inflation Reduction Act from the Biden-Harris administration, Erick is excited as "employers are all scrambling to gear up" for the new generation of a green workforce.
While the City acknowledges its limitations as there are other stakeholders in this space, including educational institutions and private employers, the Climate and Equity Plan aims to position the green jobs accelerators program "to give people a fair shake for employment," Erick notes "We're going to help clarify where to go for these opportunities." He recognizes that there are many questions the City still needs to address before implementing the plan. "As we set up these programs, we like to support people and figure out the barriers — if it's transportation or another barrier, how can we help them overcome that? Can employers care about diversity in their hearts and not just because they must build those kinds of partnerships because of the law?" Erick ponders, "It's smoothing out pathways. It's finding collaborations on the business side and the worker side."
Erick recognizes the parameters laid out for the Green Jobs Acceleration Program are ambitious, but he is hopeful. "Workforce development is hard. It's sticky. But it's important, and we have to find a way to keep working through it to meet our diversity, equity, and inclusion goals, and also to meet our climate goals because right now, we just don't have enough workers to do the work," he says, "As the City transitions to focus on climate, we've got to do something better and try to be intentional so that we don't just keep repeating patterns over and over. The climate plan really puts us in a good position to do so. The plan wants us to be very intentional so that we're targeting those efforts to not only focus on areas geographically where people of color are but also, as we create green jobs, try to be intentional about recruiting people of color into those new job classifications."
Building a sustainable, green workforce is a need many cities and counties are looking to address, not just Milwaukee. Four counties in the Milwaukee region also use the Climate and Equity Plan as the backbone for a regional plan. "We are not unique in that at all," Deneine emphasizes. Today, she continues to use her lessons from her time as a FUSE Executive Fellow in communities she works with, helping navigate the conversations around "what's in it for them, how this is going to make their lives better, and how this is going to connect and uplift the entire community."
Leveraging Federal Funding Opportunities
Milwaukee is seizing the opportunity presented by the Inflation Reduction Act to secure substantial grants for various climate-related projects, from urban forestry to electric vehicle charging infrastructure. "The list of funding opportunities is really extensive," says Erick, "And that means taking that climate plan at a high level and operationalizing it to the point where you can have fundable projects."
Securing funding is crucial to executing the goals outlined in the Climate and Equity Plan. Deneine emphasizes the urgency of immediate action while federal funding is still available. "Now is the time to work together with municipalities and job training programs," she says. Post Fellowship, Deneine is continuing to support the City by exploring green banks to leverage financing for these initiatives. "We're not entirely there yet," she acknowledges, "We've got to get the funding right because we've got a great plan. Everybody's blessed it, but we must see funding coming through the door, and right now is the best time." In September, Milwaukee was awarded $12 million from the USDA Forest Service to expand the urban tree canopy in disadvantaged neighborhoods and create jobs.
In addition to identifying funding sources, the City faces legislative challenges that hinder progress on climate and equity. Outdated state laws have left the City with limited options in key areas, such as the building energy code and electric vehicle charging infrastructure. "As a city, we're kind of stuck not being able to do much there," Erick notes, "We need laws that keep up with technology. And unfortunately, our legislature hasn't done that." He advocates for better statewide policies essential to overcoming barriers and paving the way for a more sustainable Milwaukee.
A Once-in-Five-Lifetime Opportunity
Milwaukee's Climate and Equity Plan is a vision and a tangible roadmap to a greener and fairer future. With abundant federal funding available, the City is eager to turn its ambitious plan into action. This is a rare moment to make a significant impact and propel Milwaukee toward a more sustainable and equitable tomorrow.
We've got a lot of work ahead of us. This is not a once-in-a-lifetime type of opportunity. This is a once-in-about-five-lifetime opportunity. We really want to take advantage of it and move this thing forward quickly.

Deneine Powell, FUSE Executive Fellow (2022 – 23)