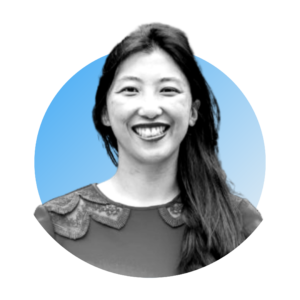 As a FUSE Executive Fellow, Hua Wang (2018-19) worked with the District of Columbia Office of the City Administrator to help implement an integrated approach to customer service. In this role, Hua initiated the design of a digital platform that simplified access to city services, transformed the way the agency's employees communicated with constituents, and improved customer care. Hua now supports start-up companies at different stages as the Director of gener8tor's gBETA Huntsville program. She also serves as the Founder & CEO of SmartBridge Health, a small business that helps all patients access quality cancer care.
What was the impact of the FUSE fellowship on you, professionally and personally? 
I really enjoyed my FUSE fellowship. I learned a lot about emotional intelligence, resilience, and how to create impact. 
Now, I coach entrepreneurs in Alabama and North Carolina, nascent startup ecosystems with a lot of potential for growth. I work with a host of people in government and economic development.
The skills and knowledge I gained through FUSE—the value of listening, an understanding of how government works behind the scenes, the ability to find connections and seek common ground, figuring out how to overcome red tape—have proven to be very helpful.
Before my FUSE fellowship, I was an entrepreneur. Now, I'm on the other side; running the accelerator, giving out funding, and guiding others as they grow their businesses. The FUSE experience gave me the confidence to do this other kind of work.
What are the big challenges on which you are working now, what are you hoping to achieve in the next 6-12 months, and how has your FUSE experience prepared you to approach them?
Compared to other places I have worked, Alabama's entrepreneurial ecosystem is still at a very early stage. gener8tor is one of the first national organizations working with startups in the state. With such a limited investor network—and one that is relatively risk-averse—we have to be innovative and thoughtful in how we bring resources to entrepreneurs. Most of the startups in my group have not raised private investor capital before. They need support to learn how to pitch using language and materials investors are accustomed to seeing. 
One approach I have used is to leverage my deep network of veteran entrepreneurs from all over the country to meet with my cohort in Alabama. They are often very impressed by how much talent, grit, and tenacity exist there. Over the course of the last year, 10 of the start-up companies I supported in Alabama collectively raised $11 million in funding and now have $12 million in lifetime revenue. 
As I do this work, I carry with me the toolbox that FUSE gave me for understanding problems and how to solve them. During my fellowship, I had to learn to be very resourceful. My project was a big overarching, ambitious objective—to transform the customer experience across 10 agencies with no team or budget. I had to hustle and find creative ways to get things done. I find myself in a similar situation now. But I've been here before. I know how to navigate big problems with limited resources. 
Related work and news:
Apolitical: Can government be delightful? Here are seven lessons from a year in public service
CFD Research: Theraplay Analytics selected for inaugural gener8tor gBETA Huntsville startup accelerator
YouTube: gener8tor gBETA Huntsville Alabama Pitch Night LIVE! 8/5/21