Last month, 41 committed leaders embarked on their journey to dedicate a year of their lives to public service through the FUSE fellowship program. They're prepared to tackle the toughest issues in communities across the country, from bail reform to homelessness and affordable housing to inclusive economic and workforce development. We talked to these talented changemakers about what inspired them to join FUSE.
---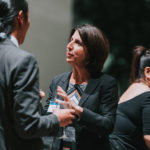 Natalie Barndt: "I have been striving to find a way to focus my work on criminal justice reform for a few years. When I read the job description for this fellowship, I felt like I finally had found a position in which I could make a significant difference and that required the skills and experience I can bring. Then, after meeting my fellow executive fellows, I was sure that this is the right place for me."
Michelle LeBlanc: "This fellowship offers a chance to explore transitioning out of the private sector and into the public sector in a unique and meaningful way. It also gives me the opportunity to use my skills and experience to make a positive impact on my community."

Jessica L. Herbert: "I believe in advocating for those who may not be able to advocate for themselves and for the greater good of society. This means interrupting the 'norm' to implement sustainable and smart changes for a community. We all deserve to live safely and be treated fairly by public services."
Amanda Wang Valentine: "My dad infrequently paid child support, and the impact that had on our family relationships brings a really personal touch to my decision to take the fellowship. I've also done a lot of work with technology and digital health, and much of my expertise is in helping make hard things easier for people to do.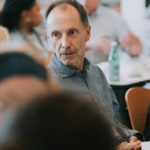 David Spirakis: "Whenever I tell one of my friends in the financial community that I am advising the city of Los Angeles on starting a housing finance agency, their initial reaction has been, 'You mean they don't have one?' That was my first reaction, too, and it is the reason I took this fellowship."
Amanda Soskin: "In an environment of diminishing federal and state resources, cities must realize and leverage the potential of publicly and privately owned land as assets to address their critical needs. The FUSE executive fellowship allows me the opportunity to work with cities and communities on the front lines of this issue."
Jerry T. Chang: "The depth and interconnection of the FUSE project brings together how leadership and an inclusive community can have great impact. We have the potential of really learning how to make inclusion work."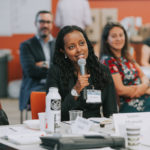 Salem Afeworki: "I am passionate about building resilient communities. The FUSE executive fellowship provides me with the opportunity to support the city of Long Beach as it addresses its economic and social inclusion issues."
Kishani De Silva: "Homelessness is considered the moral issue of our time. A deep desire to engage in public service—to work specifically on our housing and homelessness crisis—was fulfilled through this fellowship. As I springboard from the private to the public sector, the fellowship will allow me to leverage my knowledge and experience to effect meaningful change."
Patrick Koppula: "This is such a vibrant opportunity to use my expertise in human-centered design to help Los Angeles County adapt its workforce development systems to move its economy forward."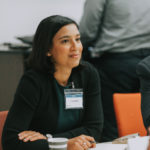 Julie Lamba: "I love developing leaders and helping others explore and fulfill their potential, but I wasn't excited about the ultimate purpose of that work within the private sector. Working on leadership development for the Los Angeles Public Library, I wake up every morning feeling energized by the ways in which my work with LAPL staff might help drive the nature and quality of experiences that residents throughout the city have with the Library."
Danielle Elkins: "I have worked with local governments on issues related to infrastructure for more than a decade. For most of my career, my industry has been grappling with the effects of consolidation, funding cuts, automation, and new technology. I couldn't pass up the opportunity to work on transportation technology, an issue that is deeply important to me and the future of my industry."
Eric Rosen: "As a self-described 'long-term tourist' to the city of Los Angeles, I am excited to leverage my consulting skills to help drive the development of the city's first ever strategic tourism plan."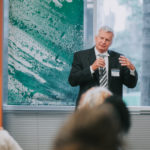 Jack Sahl: "More and more people are moving into cities, and as we deal with all of the associated issues, we want to make sure that our cities are places that are fun and healthy for the whole community, not just a few people who have more means. Having access to outdoor space gives you an entirely different perspective and frees you from the built environment. From the birds and animals to recreation—whether it's sitting under a tree reading a book, having a barbeque, playing ball, or going for a hike—it all comes together in our parks. But it only works if the parks are throughout all of our communities."
Hua Wang: "The FUSE executive fellowship gives me the unique opportunity not only to grow and learn, but also to do work that has meaning and real impact for D.C. residents."
Kevin Meehan: "I became a FUSE executive fellow because I've always had this urge to get involved in how policy was designed, especially at a city level. What made this fellowship even more attractive was being able to do this on a topic I am very passionate about, which is clean energy, and in a city, San Jose, that is leading the way."