Oakland, CA, and Austin, TX, are undergoing rapid environmental and infrastructural changes due to the intensifying impacts of climate change. Amidst the adversity, both cities strive towards resilience, equity, and community empowerment. Let's delve into their journeys.
Oakland's Equitable Climate Action Plan (ECAP) & Resilience Hubs
Oakland is no stranger to the harsh consequences of climate change, grappling with various challenges, including historic droughts, scorching temperatures that magnify existing pollution, and ravaging wildfires. Notably, the city's frontline communities, contributing the least to the climate crisis, are receiving its harshest impacts.
Recognizing this inequity, Oakland took a bold step in 2020 by approving the Equitable Climate Action Plan (ECAP). Central to this initiative is the idea of 'Resilience Hubs.' These are envisioned as sanctuaries with resources and infrastructure to support residents during challenging times like smoke days, extreme heat waves, power outages, and earthquakes.
Defining Resilience Hubs

Resilience Hubs are community-serving facilities augmented to support residents, coordinate communication, and distribute resources in the face of the shocks of disasters and the stressors of everyday life experienced in front-line communities. Resilience Hubs offer year-round services tailored to the local community's needs to effectively achieve outcomes at the nexus of community resilience, emergency management, climate change mitigation, and social equity. Resilience Hubs support communities to become stronger, more self-determining, socially connected, and successful before, during, and after disruptions. Resilience Hub facilities have backup energy sources, heating, cooling, and air filtration. They may have green infrastructure, such as reducing carbon pollution, providing green space, and utilizing greywater systems.
To actualize this vision, Oakland has joined hands with FUSE. Together, they aimed to pinpoint and evaluate the potential of introducing Resilience Hubs in the frontline communities. Through this collaboration, FUSE Executive Fellow (2022-23) Veronika Cole was entrusted with critical tasks: understanding community resilience needs, acting as a bridge between city departments and the community, and proposing plans for test resilience hub facilities. This progressive endeavor propels Oakland closer to making every community climate-resilient by the end of this decade.
Backed by solid community advocacy, Lincoln Square Park in Oakland Chinatown has been identified as one of at least three locations the City plans to build a resilience hub by 2030. The City is developing resilience hubs and resilience improvements throughout Oakland, including planning for additional hubs in West Oakland and East Oakland.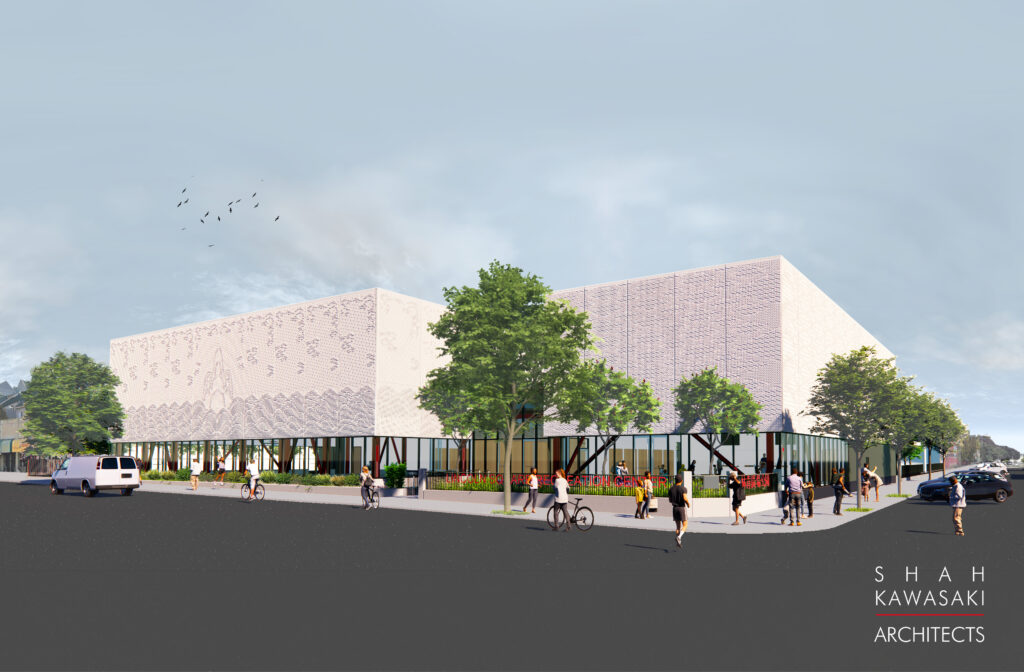 Architectural renderings of the new resilience hub at Lincoln Square Park in Oakland Chinatown.
Oakland's Chinatown consists of individuals over 65 who reside in older buildings without adequate insulation or air conditioning, increasing their susceptibility to extreme heat and poor air quality. This community, primarily Asian and predominantly non-English speaking at home, faces challenges, including high poverty rates, linguistic isolation, and heightened exposure to various sources of pollution, leading to elevated asthma rates.
"It can be harder to get support if you don't speak English as a first language," Cole notes, "Lincoln itself is a natural, trusted location that speaks the language of its community. It's culturally appropriate and a place people already turn to for support."
Lincoln Square Park has been a vital community cornerstone in Oakland. Before the COVID-19 pandemic, between 1,000 and 1,500 residents visited the park daily. In a vulnerable neighborhood with significant pollution and climate-related challenges, Lincoln Square Park has been a historical community hub, engaging in various resilience activities, including food distribution during the pandemic and classes in collaboration with the Emergency Management Services Division. A Safety and Resource Fair was also hosted in the center after violence against Asians rose in the city.
The current recreation center at Lincoln Square Park, a structure close to 50 years old, has been degrading over time. The City is securing additional funding to begin demolishing and constructing a new center with resilience features. Cole worked with community members to apply for grant resources, which led to the recent award of a $9.25 million grant to the City of Oakland. Pre-construction activities for the new resilience hub have already begun, a huge win for the community.
The concept of resilience hubs is pivotal, aiming to offer cooling facilities, cleaner air through improved air filtration, information on self-protection, and backup power during emergencies, providing essential services like medical device charging and refrigeration for medication during power outages. The newly planned resilience hub seeks to safeguard the community's well-being, especially during challenging weather conditions and emergencies, as well as challenging social conditions, such as the recent increase in violence against Asians.
Beyond the new center being a refuge in extreme weather events, the City hopes to foster other collaborative opportunities and encourage greater accessibility to various community services, promoting cooperation and inclusivity among service providers. The recent grant will contribute to establishing the Oakland Chinatown Resiliency Council, a forum ensuring that the new resilience hub has community leadership during implementation. The council will meet quarterly, at a minimum, to advise on ongoing resilience programming at the resilience hub.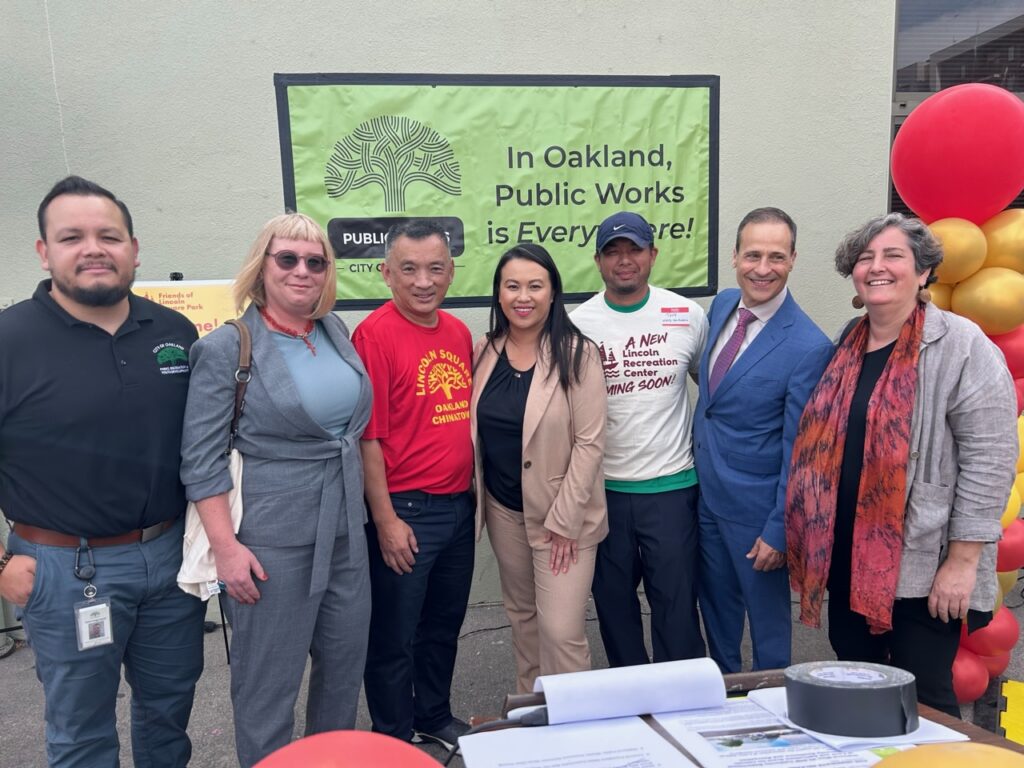 Press event at Lincoln Square Park. Left photo: FUSE Executive Fellow Veronika Cole with Mayor Sheng Thao, Deputy City Administrator Joe Devries, Lincoln Neighborhood Center Director Gilbert Gong, and other staff from Oakland Parks, Recreation & Youth Development. Right photo: FUSE Executive Fellow Veronika Cole with California Department of Food and Agriculture Deputy Secretary Michael Flores, Mayor Sheng Thao, a representative from State Representative Mia Bonta's Office, staff members from the City Administrator's Office, Office of Sustainability, Public Works, and Parks, Recreation & Youth Development, and community organizations including Asian Pacific Environmental Network, Friends of Lincoln Square Park, Wa Sung Community Service Club, and East Bay Asian Local Development Corporation.
Austin's Community Resilience Hub Network
The last ten years have been tough on Austin, TX. The city has seen everything from destructive wildfires to unprecedented winter storms to record-breaking high temperatures. However, every challenge has bolstered Austin's resilience and community welfare commitment.
In 2021, the Austin City Council endorsed the construction of a Resilience Hub Network. The objective? To present communities with hyper-localized solutions tailored to the unique needs and challenges of communities. These solutions aim to fortify community members against persistent stressors while enhancing disaster response and recovery mechanisms.
For this, Austin, like Oakland, is partnering with FUSE. Guided by FUSE Executive Fellow (2022-23) Ted Chung, Austin's endeavor involves intense community engagement to comprehend past and present challenges. Ted also acts as the bridge between various city departments and the community. His role is pivotal in devising strategies that stabilize neighborhoods and augment the community's capacity to bounce back after significant events. The ultimate goal is clear: foster community climate resilience, ensure justice, and uplift historically marginalized communities.
A population of mainly Black and Latinx residents, the Eastern Crescent region has historically been subjected to systemic vulnerabilities and marginalized by the urban planning process. Characterized by redlining practices that segregated communities of color to the eastern side of the city, the Eastern Crescent's unfortunate legacy has left an indelible mark, as evidenced by the community's continued exposure to flooding due to poor soil composition, extreme heat due to the absence of tree shade, and power outages from downed power lines.
Climate trends predict Austin will experience longer heat waves and more frequent cold snaps, underscoring the urgent need for a robust, community-centered approach to resilience.
In the face of such multifaceted challenges, the Resilience Hub Network has emerged as a vital lifeline for the Eastern Crescent community. Based heavily on community feedback, the Resilience Hub Network relies on already trusted and accessible community locations in the city, like public libraries, schools, recreational centers, and churches, rather than building new sites. Integrating trusted local institutions as crucial nodes within the network exemplifies a thoughtful and inclusive approach that resonates deeply with the community's needs and aspirations.
"We're already leveraging the community goodwill towards these institutions and pillars in the community," Chung notes, "And using that as a driver to foster better preparedness for everybody." After piloting six locations, the City is running 12 fully operational hubs. The goal of the network is not only to mitigate the immediate impacts of disasters but also to foster long-term preparedness and community cohesion.
The emphasis on community engagement is the linchpin of the Resilience Hub Network's success. The City employed a multi-varied approach to solicit community input, combining surveys, door-to-door outreach, and collaborations with local organizations to ensure that the community's voices were heard and actively incorporated into the planning and implementation processes.
Understandably, Chung found that the resilience hubs would be the last option for residents during crises. Residents prefer to stay home or visit a family member or friend before turning to the City. Based on the Swiss cheese effect — a metaphor that explains how accidents and failures can occur in complex systems despite multiple layers of defense — the City hopes its resilience hub network is a safety net for its residents when all other options have been exhausted.
"It's a last line where people can come in. After familiarizing the community with disaster preparedness, we hope these resilience hubs are a place that they are comfortable enough to come to," Chung adds, "Austin has a place where we can focus all our resources and efforts during a time of crisis." The emphasis on trust-building and leveraging existing community networks serves as a poignant reminder of the indispensability of community buy-in in fostering resilience.
The City has ongoing efforts to retrofit hub infrastructure and explore alternative power sources and proactive measures to ensure the network's continued functionality in the face of evolving challenges. The forward-looking approach adopted by the Resilience Hub Network underscores its commitment to sustainability and adaptability, acknowledging the imperative of preparing for a future fraught with unpredictable climatic shifts and changing community needs.
The Resilience Hub Network enables everyone — from individuals to the community to the City — to play an active role in keeping the community safe.
"When it comes time for disaster preparedness, many people aren't focused on it. And they shouldn't be. Because most of the time, if governments are doing their job correctly, they'll be able to address those needs beforehand. But we all know things don't happen that way in the real world," Chung concludes, "It's incumbent upon folks to be able to be prepared. Still, I think being able to have an accessible approach to learning about preparedness — what that means, how to be able to prepare your household and your community in times of crises — is important. It's not just on an individual level, but you need to be able to spread that laterally. So I think there's a queue with the resilience of that to help foster that community aspect. That's why every city should help."
Conclusion
The initiatives in Oakland and Austin underscore a vital lesson: confronting the challenges of climate change necessitates a dual approach. Cities must invest in infrastructural resilience, but just as importantly, they must champion social equity and community empowerment. As Oakland and Austin demonstrate, with collaboration and commitment, it is possible to craft a future where every community thrives, irrespective of the climatic challenges.
For local governments looking into building resilience hubs in their communities, Veronika Cole has advice: start with conversations with your community.
"Get out there, get out of your office, go talk to people, listen to needs, go beyond offering a table at a community event and have conversations with community leaders, bring them on board, and have real conversations to get them involved in making decisions around the hub and on the process to develop the hub," she says, "The more you can do to build your team, the more that you'll have community ownership over the resilience hub, which is key to keeping it from being just a building with improvements. Instead, it becomes a real, live, and vibrant place used in the community for services and refuge during adverse events."