FUSE is thrilled to welcome our Fall 2023 Cohort! Our latest cohort comprises 27 Executive Fellows working in 21 Cities and Counties spread across 16 states over the next 12 months. Meet the Executive Fellows, see what regions they'll work in, and learn more about the projects below!
We are proud to work again with our partners in Los Angeles County, San Joaquin County, and King County, and we are excited to welcome our new partner, the City of Hayward! Meet the Executive Fellows >>
I hope that through this project, I can create a more sustainable and equitable future for communities that have been impacted by a history of systemic and institutionalized racism and, at the same time, address the pressing challenges of climate change while simultaneously improving the health and well-being of Hayward residents, especially those who have historically borne the brunt of environmental disparities.

FUSE Executive Fellow Fred A. Clay — Hayward, CA
We are also continuing our partnerships with the City of New Orleans and the City of Durham. We welcome our new partners: the City of Jackson, the City of Jacksonville, Guilford County, and Dekalb County! Meet the Executive Fellows >>
When Manager of Recruiting KD Brown reached out to me and shared the mission and vision of FUSE, I was immediately drawn in to be part of this amazing initiative. The Jacksonville project speaks to my desire to help as many people get on a better path to resiliency and sustainability in our climate-changing world.

FUSE Executive Fellow Judy Holm — New Orleans, LA
FUSE is once again partnering with the City of Fort Worth, Kansas City, KS, Harris County, the City of Cleveland, Travis County, Kansas City, MO, while also expanding our reach with multiple projects with Salt Lake City, Washoe County, the City of Albuquerque, and the City of Cincinnati! Meet the Executive Fellows >>
Being at an inflection point in my personal life and career, I felt a strong sense to serve my community. The FUSE Fellowship was a perfect way to combine my past professional experience with my passion to serve in addition to growing personally and professionally. At the end of my Fellowship, I hope to have laid the groundwork for long-lasting permanent change in regard to housing affordability that can be used not only in Washoe County but throughout the whole country.

FUSE Executive Fellow Shane Kockenmeister — Washoe County, NV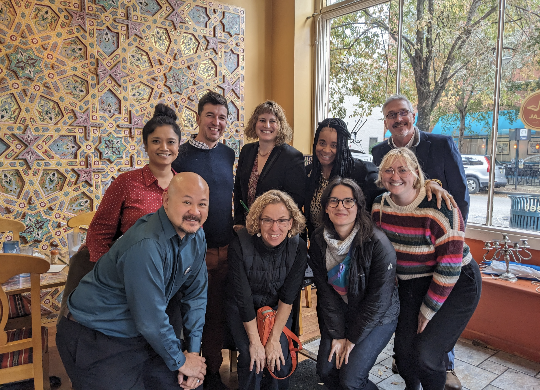 Executive Fellows from the Fall 2023 Cohort with local government agencies on their first week. From top left to bottom right: City of Cincinnati Executive Fellows Valorie Aquino, Nikki Vandivort, and Thanapat Vichitchot with the Office of Environment and Sustainability team, Executive Fellow Yolanda R. Owens at her office with the City of Jackson, Travis County Office of Emergency Management welcomes Executive Fellow Maria Yuan, City of Cincinnati Executive Fellows, Executive Fellow Nikki Vandivort at her City of Cincinnati office, and Executive Fellow Judy Holm's worksite at the City of Jacksonville's City Hall.